It is the responsibility of the Plan Sponsor of the 401(k) Plan to ensure Plan transactions are completed, performed accurately, in a timely manner, and in compliance with the Plan Documents and regulatory requirements.
Many small or medium 401(k) Plan Sponsors will hire a service provider to help them with the Plan's administrative duties such as compliance requirements, custodial activities, and record-keeping. They may also hire a payroll service provider to keep track of an hourly employee's time as well as run payroll duties each pay period.
It's highly recommended that you conduct due diligence work to ensure you are hiring the best provider to fit your needs. Be sure to review the provider's experience and qualifications as well as all who will be working with the provider you choose. Ask for references from other customers and talk to the provider about their best practices.
Most large service providers will have something known as a System and Organization Controls Reports (SOC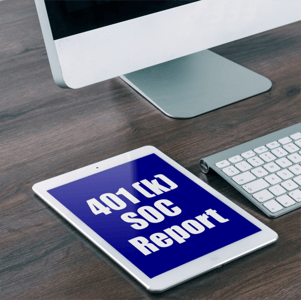 Report). The SOC report follows the Association of Independent Certified Public Accountant (AICPA) requirements for review of procedures and internal controls within the organization. These reports describe the important procedures used by the service provider that is relevant to your Plan. Some reports will include a description of testing performed by an independent CPA firm on the controls and will list any deficiencies noted from the testing. You should request a copy of this report and review the information contained within it. To monitor the service organization you should:
Obtain the annual SOC reports prepared and discuss with the service provider any items noted or questions you may have from the report.


Discuss internally within your organization the response time given for individual transaction requests, questions given to the provider and other inquiries. Also, discuss any errors noted in transaction processing.


Inquire of your employees their impressions regarding the service provider performance.


Review selected transactions such as contribution submissions, distribution and loan requests and transactions involving the forfeiture account (if applicable) to verify accuracy and timeliness in processing.


Conduct an evaluation of the provider internally on a regular basis. As part of this review, search out other available providers and assess the best option for the Plan going forward.
Reviewing the performance provided by the service providers to your 401(k) Plan is an important part of the fiduciary duties with regard to the Plan. Outsourcing the responsibility for accuracy and compliance is not permitted by regulation. Constant oversight is very important to ensure proper 401(k) Plan administration.
For more information regarding service provider oversight and meeting your fiduciary Plan responsibility refer to the Department of Labor website.
If you would like to discuss Summit CPA Group's audit process in more detail or need an audit for the first time, contact our office at (866) 497-9761. We're here to help you navigate the world of the 401(k) audit as proficient as possible. We also offer flat-fee pricing so there are no surprises on your bill when the job is complete. For assistance contact our office at (866) 497-9761 to schedule an appointment.