As the Plan Sponsor of a 401(k) Plan, ensuring all activities of the Plan are fully documented is an important responsibility. If you do not currently have a Retention Policy, this is a great time to get one established at your Company. The Policy should include all the different types of documents that are important to retain, such as:
The period the documents should be maintained.
The location for each document.
The individual or group responsible for maintaining and updating the documents.
The procedure to use to destroy the documents once the retention period has ended.
We recommend the following items be addressed in your Retention Policy for your 401(k) Plan: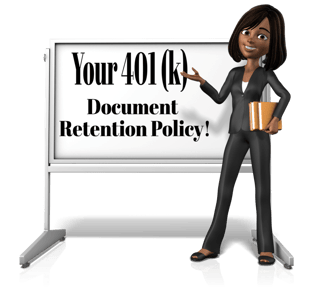 Plan Documents including the Adoption Agreement, Summary Plan Description, Full Plan Document and IRS Opinion or Determination Letter
Administrative Agreements associated with the Plan, the Trust Agreement, Annuity Contract or other associated documents.
Year-end financial reports for the Plan and other full year reports that show Plan activity along with any reconciliations you may have prepared reviewing the reporting.
Year-end Payroll File, Year-end W-2 File and other associated reports that accompany your full year payroll information.
Human Resource files including I-9 Forms, employee benefit enrollment forms. Offer letters, Personnel Change Forms.
Transaction request forms and approval forms related to activity in the 401(k) Plan such as participant loan request forms, Promissory Notes, amortization schedules, participant distribution forms, and hardship withdrawal supporting documentation.
Bank statements detailing contributions to the Plan.
Approval over Company match or other Company contributions to the Plan.
Investment Committee or 401(k) Plan Committee Minutes.
Fee Disclosure and other disclosure materials and evidence showing dissemination of the required disclosures.
Copies of the Fidelity Bond, Plan Census, Discrimination Testing, Form 5500 copies and other compliance materials.
The above listing is not meant to be all inclusive but should give you an idea of the types of information that may be requested during an audit or review of your Plan by the Plan auditor or regulatory authority. You can review information on the Summit CPA Group website for details regarding the information we request as part of a 401(k) Audit. The Department of Labor and Internal Revenue Service websites also list suggested materials to retain and the suggested retention periods for the information.
Remember that audits are conducted after a Plan year has been completed and regulatory audits can be conducted up to three years after the current year so documentation must be retained beyond the current Plan year.
At Summit CPA we have the ability to offer assistance entirely off-site with little or no distraction from your daily office routine. We also offer flat-fee pricing so there are no surprises on your bill when the job is complete. For assistance contact our office at (866) 497-9761 to schedule an appointment.