If you discover that you made an error in administration of your 401(k) Plan or overlooked something that you should have completed there are self-correction programs offered by the Internal Revenue Service and the Department of Labor (DOL) that you can consider. We'll review the DOL programs in this blog post. The DOL offers 2 programs.
The first program is called the "Delinquent Filer Voluntary Compliance Program" (DFVCP). This can be used if you have not filed the Form 5500 timely and have not yet received a notification from the DOL regarding the error. Two things you should do for this program are: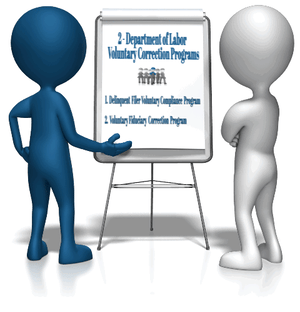 File the Form 5500 in the EFAST system and indicate that you are filing under the DFVC program.
Use the online calculator to compute the penalty amount for late filing. Then make the payment either electronically or mail in a check to the DFVCP. Additional instructions on completing this submission can be found on the DOL website.
The second program the DOL offers is titled the "Voluntary Fiduciary Correction Program" (VFCP). This program should be used to correct operational/fiduciary errors. The program can be used if the Plan is not already under investigation by the DOL. This program covers a variety of transactions such as:
Delinquent participant contributions.

Defaulted loans.
Improper payment of expenses by the Plan.
Payment of duplicate or unnecessary compensation and other items.
To take advantage of this program, Plan Sponsors should refer to the DOL website for the required documentation that must be submitted to the agency for review. The Plan is required to restore the Plan, participants, and beneficiaries to the condition they would have been in if the violation had not occurred. The website provides additional information to assist in calculating these amounts. For more detailed information you can refer to the DOL website or contact the DOL directly at 1-866-444-3272 and ask for the VFCP Coordinator.
Both options are preferable to leaving the item uncorrected and risking much more significant fines, penalties, and time for correction if the error is identified by your employees or the DOL during an audit or investigation.
It's vital that you hire a trusted auditor when it's time for your plan's audit. At Summit CPA we specialize in retirement plan audits. We have the ability to offer assistance entirely off-site with little or no distraction to your daily office routine. We also offer flat-fee pricing so there are no surprises on your bill when the job is complete. For assistance contact our office at (866) 497-9761 to schedule an appointment.