The 401(k) Audit CPA Success Show: Episode 19

We're taking a little breather from the heavy topics such as cybersecurity and legal implications for today.
In this episode, we are sitting down with our Director of Auditing, Kim Moore, and Chasity Price, and Lauren Van Wyngarden from our 401(k) audit team to talk about their experience working and interning at Summit CPA Group.
Episode quote:
"It has been a challenge for me, with making sure I'm trying my numbers back and forth, navigating through our online system. We did use Advanced Flow at my old job but it wasn't as detail-oriented as Summit is."
- Chasity Price
The finer details in this episode:
Chasity and Lauren's previous job experiences

Understanding different kinds of audits

What working remotely is like for them and the identifying challenges of working remotely

What are their key learning experiences with Summit CPA
Episode resources:
Enjoy this episode? Subscribe to 401(k) Audit CPA Success Show to get more tips and strategies for achieving 401(k) audit firm success. We're here to be a resource in this ever-changing industry.
Available via iTunes, Spotify, Stitcher, and more!
You can view the transcript for this episode here.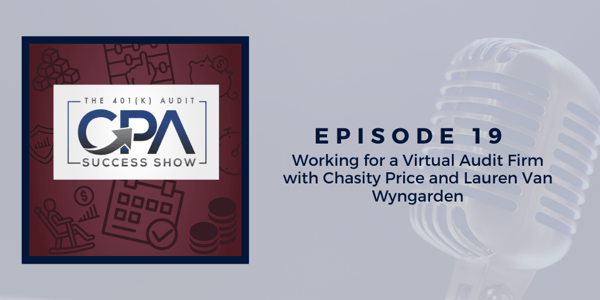 Share this podcast episode on Twitter:
The 401(k) Audit CPA Success Show 🎙️ by @SummitCPAGroup:
Episode 19 - Working for a Virtual 401(k) Audit CPA Firm 👉 https://ctt.ec/59c0A+
---
Want to listen to more Summit CPA podcasts?