You have a fiduciary responsibility as the Sponsor of a 401(k) Plan, to keep accurate records for your Plan. Some of the most important records you must work to keep current for all the participants in your Plan is:
Home address
Current phone number
Current e-mail address.
Beneficiary information
This information is vital to ensure that you have accurate information to assist with the processing of payment when a Plan participant has left employment or for any reason, may want to take a distribution from his or her account.
Recent surveys have indicated that as many as 20% of overall participant records in US 401(k) Plans do not have current or accurate information related to a participant's contact information.
According to the Department of Labor, for the 2018 Plan year, there were $807 million in terminated, vested amounts in 401(k) Plans. Indicating that money is remaining in participant accounts once an employee terminates. This is because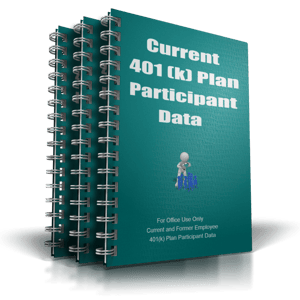 employers often don't request future contact information from an employee once they have terminated. Individuals may move many times after leaving one employer and may not remember that they even have an account with the Plan Sponsor's 401(k) Plan. It is a requirement for all Plans that the funds in a participant's account must eventually be paid out to the participant or their beneficiaries. Of course, this can be very difficult if you are unable to locate them.
Three best practices to help alleviate these issues are:
Establish a procedure to verify the contact information periodically from all participants (address, phone number, e-mail address, and beneficiary information). You may especially need to conduct this review often if you have a high turnover in your employee base.


Include as part of your exit interview process, a discussion regarding the 401(k) Plan account. Verify if the departing employee participates in the Plan prior to the discussion. If they are participating, discuss with the employee procedures related to any outstanding loans and the repayment procedure. Also, provide information related to account distributions and discuss options for moving the funds to another qualified plan, individual IRA account, etc. You may ask them to complete the distribution forms during the meeting or follow-up shortly thereafter to attempt to have the distribution occur while you still have contact with the former employee.
Review the participant plan accounts on a regular basis. If your Plan Document allows, move the funds for terminated participants as the document provides. If you cannot automatically move the funds, establish regular communication with the terminated participants. This ensures that they receive the needed disclosure documents (another Department of Labor requirement) but also ensures you have current contact information. Provide regular information to them about moving their funds to another Plan to prod them to consider moving the amounts out of your Plan.
Ensuring your Plan remains compliant is an important part of your fiduciary duties. As this issue is receiving more attention in recent months from the Department of Labor, a review of your Plan procedures in this area is warranted.
Retirement plans can be very complex. As an innovative firm Summit CPA specializes in 401(k) audits. We have the ability to offer assistance entirely off-site with little or no distraction to your daily office routine. We also offer flat-fee pricing so there are no surprises on your bill when the job is complete. For assistance contact our office at (866) 497-9761 to schedule an appointment.