As we have discussed in previous blogs, Congress passed a set of legislation known as the CARES Act as a response to the Covid-19 pandemic and the financial fallout from the quarantine and shut down actions taken by states and local governments. There were provisions in this act that impact 401(k) Plans that are designed to assist participants with financial challenges if they are furloughed, laid off, or otherwise impacted by the pandemic. Distributions, loans, and required minimum distribution rules in effect were altered to assist participants. New, more specific, guidance has recently been issued by the Internal Revenue Service and Department of Labor related to these changes that we wanted to make you aware of.
New guidance that you should refer to include:
Internal Revenue Service Notice 2020-50
Internal Revenue Service Notice 2020-51
EBSA Disaster Relief Notice 2020-01 (DOL regulation)
Distributions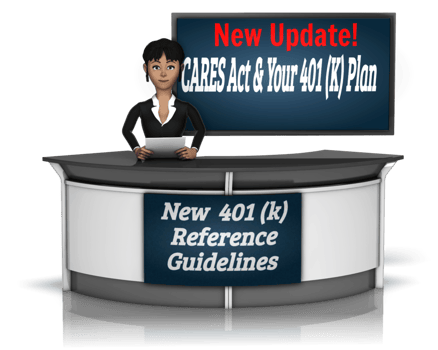 Under section 2202 of the Act, pandemic-related distributions from a qualified 401(k) plan are not subject to the additional 10% tax normally imposed. In addition, the section allows for an increase in the allowable participant loan amount and permits a suspension of plan loan repayments for existing loans after March 27, 2020 (the date of the bill).
IRS Notice 2020-50, provides more specific information on the definition of an individual qualified to receive the special Covid tax treatment from the CARES Act. Specifically, anyone diagnosed with the virus, whose spouse or dependent is diagnosed or experience adverse financial consequences related to being quarantined, furloughed, or having reduced hours from the pandemic. Distributions that an individual makes from their 401(k) account can be designated as Covid distributions based on these factors. The distributions will be included in taxable income over a three year period. Employers must choose if they want to include this provision in their Plan. The Plan is also allowed to develop specific procedures to identify a pandemic distribution versus other types. These procedures must be reasonable and consistently applied. IRS Notice 2020-50 provides an example certification that an employer may use for an individual to request a pandemic related distribution. This notice also provides specific examples of how the distribution will be taxed. This is useful information to provide to employees as they consider if they want to take a pandemic distribution.
Required Minimum Distributions
The CARES Act also provided for a waiver of the 2020 required minimum distributions. In general, once a participant reaches the age of 72 (modified from 70 ½ by the SECURE Act in late 2019), distributions must begin from a qualified 401(k) plan. The CARES Act provides for relief from the required distribution to assist participants with leaving money in their plan accounts to continue to accrue investment income and earnings. Many participants may wish to leave funds in their accounts due to the turbulent financial markets that have resulted from the pandemic. A Plan Amendment is required to take advantage of this modification to IRS regulations. IRS Notice 2020-51 provides an example amendment that Plans can use.
Extensions of Time for Disclosure Notifications
EBSA Disaster Relief Notice 2020-01 provides for extended time for Plans to distribute required notices, disclosures and other documents required by other DOL regulations and by ERISA. This new regulation states that employers will not be in violation of ERISA if the notice is not provided timely between March 1, 2020 (the date the national Covid-19 federal emergency was declared) and 60 days after the announced end of the Covid-19 National Emergency.
Plan Loans
The new EBSA notice also states that procedural failures related to participant loans will not be treated as regulatory failures if the failure is solely attributable to the pandemic and the Plan Administrator made a good faith effort to comply with the regulations and corrected the failure as soon as administratively feasible. In addition, the CARES Act provides that from March 27, 2020 to September 22, 2020, the amount of a participant loan maximum has been increased from $50,000 to $100,000 to aid in financial relief. Other regulatory provisions related to loans still apply.
Participant Contributions and Loan Repayments
The EBSA Notice also includes language that participant contributions and loan repayments will not be considered "late deposits" if they do not comply with the standard DOL regulations related to deposit of these contributions timely during the period of March 1, 2020 to 60 days after the end of the National Emergency. The DOL will not take enforcement action with regard to delays in deposits during this time period. The Employer must act reasonably and prudently, however, with regard to the handling of these participant funds.
These three new rulings provide additional specific guidance related to administration of the new 401(k) plan related items in the CARES Act. We encourage Plan Sponsors to review these notices to ensure they can take advantage of the new provisions if warranted.
When it's time for an audit for your plan it's vital that you hire a trusted auditor. At Summit CPA we specialize in retirement plan audits. We have the ability to offer assistance entirely off-site with little or no distraction to your daily office routine. We also offer flat-fee pricing so there are no surprises on your bill when the job is complete. For assistance contact our office at (866) 497-9761 to schedule an appointment.