Updates to 401(k) Plans
Congress passed HR 1319 titled the American Rescue Plan Act of 2021 (the Covid-19 stimulus package) on February 27th. This was a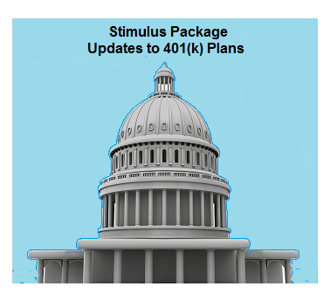 $1.9 trillion economic stimulus package aimed at assisting individuals, companies, states and local governmental entities with difficulties caused by the Covid-19 pandemic.
Although most of the package relates to stimulus payments, unemployment benefits and aid to assist with the vaccine rollout, there is a provision that relates to 401(k) Plans. The bill freezes the annual cost-of-living adjustments for contributions to defined contribution plans and the maximum annual benefits under a defined benefit plan. The changes are scheduled to take effect after December 31, 2030. They would begin to apply for 2031 calendar year Plans. Union negotiated agreements are exempted from this change.
However, many believe this is an effort to offset other measures in the bill. eliminating increasing tax deductible compensation in the future, would mean more money going to the IRS. Thus offsetting other charges in the bill (helping to pay for some of the bill provisions). As 2031 is ten years off, there is plenty of time to change this provision before it takes effect. Many are calling it a "budget gimmick".
As this change is forecasted out in the future, we wanted to bring the potential change to your attention. Watch this space. We'll keep you posted on future developments in this area.
We at Summit CPA, know that Plan administration can be a huge burden to companies especially with all the complexities added due to the pandemic. However, don't let your guard down regarding your 401(k) Plan. It is an important responsibility of the Plan fiduciaries to ensure compliance at all times. A review of current compliance and administration now will help make things a little less stressful. For more information on how we can help, contact our office at (866) 497-9761.