SAS 136 is a new auditing standard that is specific to employee benefit plan audits. It is required for adoption for calendar year plans for the 2021 plan year audits that will occur in 2022. However, auditors can "early adopt" this new standard for calendar year 2020 plans. These audits would occur during the 2021 year. We strongly encourage all Plan Sponsors to review with their plan auditor if they will be implementing this new standard for the upcoming 2020 plan year audits. There are specific requirements of the Plan Sponsor which are new. It is best not to be surprised once your audit starts, and some pre-planning may be needed if your auditor will be using the new standard for the upcoming year.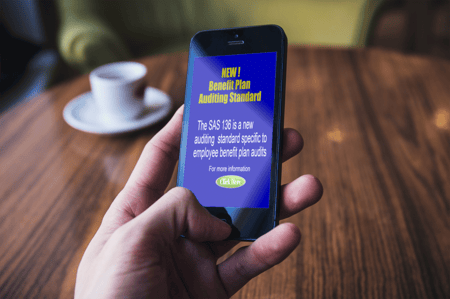 If your auditor will be using the new standard, here are some areas that you will need to pay special attention to for the upcoming 2020 audit:
Plan Sponsors must review the type of audit they are requesting from their audit firm. "Limited scope" audits have been replaced with 103(a) (3)(c) audits going forward. This requires the Plan Sponsor to review if an asset certification is available to support the audit, if it is appropriate, has the right verbiage, and covers the full year and all the assets. This review must be done by the Plan Sponsor prior to signing the audit engagement letter. There are specific requirements for this analysis, so we recommend you discuss this new requirement with your auditor before beginning the 2020 audit.





Plan Sponsors will be required to sign that they have full responsibility for the plan's administration. This includes making sure all transactions that impact the plan financial statements are completed accurately and timely, full executed copies of all plan documents and plan agreements are maintained and all other documentation to support plan transactions is maintained. You probably use one or more service providers to help with plan administration, but it remains the Plan Sponsor's responsibility to ensure all plan transactions are completed accurately, timely and are documented appropriately. Now is a good time to review your compliance in this area.





Under the new standard, audit firms are required to have a complete draft of the Form 5500 before they date the audit opinion letter for your audit. It is important to review the timing of the Form 5500 preparation to ensure this will not delay the upcoming audit.





There are other provisions in the new standard, and it is up to each audit firm to implement the new standard as they feel appropriate for each client's unique situation. We recommend you review with your firm, the changes they will be making to implement the new standard and how that will impact your audit. What will they specifically be requiring from you?
Although implementation may be a year away, early adoption is possible. To avoid potential surprises, we recommend you review the implementation plans with your audit firm as soon as possible. If you would like to discuss Summit CPA Group's audit process in more detail, or need an audit for the first time, contact our office at (866) 497-9761. We're here to help you navigate the world of the 401(k) audit as proficient as possible. We also offer flat-fee pricing so there are no surprises on your bill when the job is complete.