We continue our blog post series on 401k plan provisions this week. Last week we discussed auto-enrollment and what that means to your plan and your 401(k) plan audit. This week we will explore adding a safe harbor provision to your 401(k) plan.
What is a Safe Harbor 401(k) Plan?
The IRS defines a Safe Harbor 401(k) plan as: "A qualified plan that provides for employer contributions to the Plan to be fully vested when made. The safe harbor 401(k) plan is not subject to the complex annual nondiscrimination tests that apply to traditional 401(k) plans." A Safe Harbor option may be attractive for you to use for your 401(k) Plan, especially if you are a small company and want all employees to be able to maximize their contributions. These types of Plans are deemed to automatically pass two important annual tests called the Actual Deferral Percentage (ADP) and Annual Contribution Percentage (ACP) tests.
Often, the more highly compensated employees or managers may have their contribution amounts reduced in a traditional 401(k)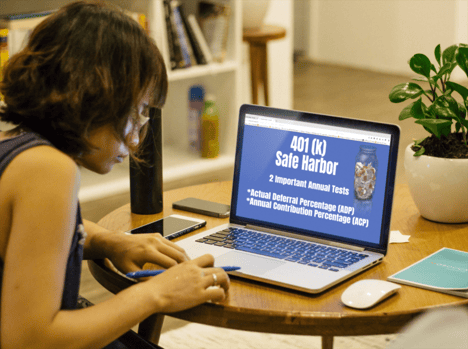 Plan to ensure the Plan passes these required tests. That can cause frustration for your employees as the amounts will be refunded out of the employee accounts and become taxable even if they were originally deemed to be pre-tax contributions.
Safe Harbor Requirements
Be aware that Safe Harbor Plans require a set level of funding for all participants by the employer and the employer safe harbor contributions are fully vested once contributed. These Plans aren't for everyone, but they are something to consider if you desire a simpler and less confusing Plan design.
Auditor considerations
For your auditor, there are several considerations they will want to explore during the audit related to the safe harbor provision. They will want to understand what type of safe harbor provision you implemented and when it became effective. They will want to verify that the provision was properly added to your payroll setup and that the employer contributions were calculated correctly during their testing. They will also want to ensure that the contributions continued throughout the entire year. If the contributions ceased for a period, the allowance to avoid certain discrimination tests is no longer applicable. The auditor will want to make sure the testing that was conducted was appropriate given the actual contributions that were made regardless of the intention to have safe harbor contributions made throughout the year.
The auditor will also want to ensure that the safe harbor was applied to all participants as detailed in the Plan document. There should not be classes of employees treated differently. Lastly, provisions like a safe harbor require specific disclosures to plan participants. There is required wording for these documents, and they must be distributed to plan participants by a specified time period during the year. We recommend you review the disclosure requirements with your service provider to ensure you understand who will distribute the documents, so this important compliance requirement is not missed. In addition, you should verify that they are distributed timely and keep a copy in the plan records in case you need to provide evidence that they were, in fact, distributed. You should also make sure that the provider has correct contact information for all participants (including those that are no longer employed by your company) if they are going to distribute the disclosures.
When it's time for your annual audit it's very important that you hire a CPA firm that specializes in retirement plans. Hiring the right firm will make a huge difference in how smoothly your audit goes.
At Summit CPA we have the capability to assist you entirely "off-site", and with little or no distraction to your daily office routine. We also offer flat-fee pricing for pension and 401k audits so there are no surprises when you receive your bill. To find out how we can assist your business, contact our office at 866-497-9761 to schedule an appointment.