We hear quite often from our clients that they are frustrated that their employees don't take advantage of the 401(k) Plan offered to them. For those that are participating, the savings rate is low. It begs the question – "Are your employees saving enough for retirement"? Recent studies suggest that it may require $55,000 or more per person to live comfortably in retirement. If you believe you will live 20 years or more after you fully retire, it means your retirement savings must be close to $1 million or more. This is a big and scary number for most of us. We believe this leads to inaction by many workers in their younger years and once they near the retirement age, it is often too late to accumulate that large of an asset figure in a retirement account.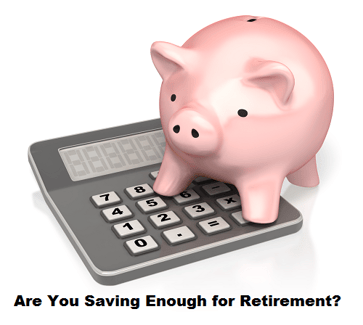 Recently there was a study by the Insured Retirement Institute, in which they surveyed 1,000 employed workers aged 40 to 73 about their savings and the findings supported the lack of savings. More than half indicated they have saved less than $51,000 in total for retirement. Twenty-five percent had saved nothing at all. Forty-four percent of those surveyed believe they do not have enough saved. They also believe they will not be able to remain independent after retirement because of this lack of savings.
There were also great concerns about medical expenses and funding long-term care if needed. Most respondents were worried that what savings they have, could be taken away by a late market correction in the last years before retirement. Conversely, many of the respondents want to retire earlier than age 65. This, of course, would require even greater savings. If you would like to read the full report – use this link: https://www.myirionline.org/docs/default-source/default-document-library/iri-retirement-readiness-2021_fullreport.pdf
What can you do to help employees with these concerns?
We recommend these actions to help your employees plan for their eventual retirement.
Ensure you are providing clear and constant communication about your company's 401(k) Plan. Talking about the Plan often provides employees the opportunity to ask questions and reminds them of the offering. Include discussions about the Plan in your Open Enrollment discussions or All Employee Meetings.


Consider using an Investment Advisor to help employees understand the complexities of the Plan, especially the investment options offered. These individuals can help employees strategize their investment choices to include diversification to weather market changes.


Offer a match in your Plan. This is free money to employees and a great way to boost savings.


Work with the service provider for your Plan to offer retirement savings calculators to employees. This will help them see the need to save and also help those participating in the Plan to work on their retirement planning and make adjustments as needed based on what the calculations look like.
Ultimately it's each employee's responsibility to plan for their eventual retirement. However, offering information can help this difficult and often confusing subject become easier for your employees and can also boost participation rates in your Plan.
Retirement plans can be very complex. As an innovative firm Summit CPA specializes in 401(k) audits. We have the ability to offer assistance entirely off-site with little or no distraction to your daily office routine. We also offer flat-fee pricing so there are no surprises on your bill when the job is complete. For assistance contact our office at (866) 497-9761 to schedule an appointment.