The 401(k) Audit CPA Success Show: Episode 14
Today, Jamie Nau sits down with Kim Moore to talk about one of the most asked question, which is "What should I do so I could plan for my retirement?".
Answering this question not just from the perspective of a plan sponsor but also from an individual's perspective focusing primarily on the 401k aspect of your retirement plan.
Episode Quote
"Planning as early as possible makes the whole process easier." - Kim Moore

The finer details of this episode:
Why planning your retirement earlier is important
Where to start your retirement planning
Understanding your needs and what you want to achieve for your retirement plan
Tips on managing your retirement plan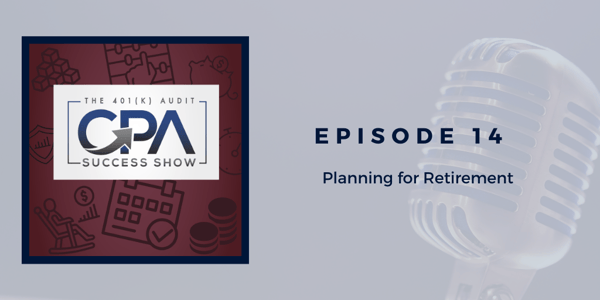 Share this podcast episode on Twitter:
The 401(k) Audit CPA Success Show 🎙️ by @SummitCPAGroup:
Episode 14 - Planning for Retirement 👉 https://ctt.ec/a7aQ5+
---
Want to listen to more Summit CPA podcasts?