The 401(k) Audit CPA Success Show: Episode 23

What is the global phenomenon called "The Great Resignation"? What is happening in the current labor force that is affecting companies in various industries?
In this episode we talk to, Josh Jeans, our People Operations Strategist about this phenomenon and lay out practical steps a company can consider to take this employee retention and hiring challenge head-on.
Episode Notes:
"We're seeing it all across different disciplines, all different types of employment and what we're finding is that people are quitting - and that really started from probably I'd say January and still continuing on through today - where they're quitting for all kinds of reasons" - Jody Grunden
The finer details of this episode:
What is "The Great Resignation"?
What are the reasons behind this phenomenon?
What can companies do to take employee retention to the next level?
Finding candidates, the evaluation process and preventing no-shows.
Episode resources: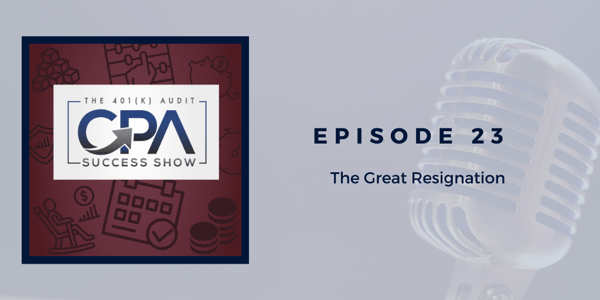 Share this podcast episode on Twitter:
The 401(k) Audit CPA Success Show 🎙️ by @SummitCPAGroup:
Episode 23 - The Great Resignation 👉 https://ctt.ec/1Ekq8+
---
Want to listen to more Summit CPA podcasts?