If you are the Plan Sponsor for a 401k Plan, there are disclosures that need to be made throughout the year to participants and/or employees. It is a good practice to set up a compliance calendar for your Plan to ensure you know when to distribute those items. Review the needed disclosures with your service provider so you make sure not to miss any along the way.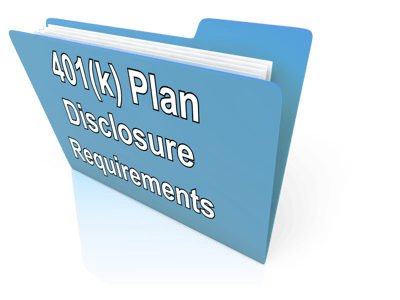 At year-end, there are several required disclosures. This blog will highlight a few of the key items.
401k Safe Harbor Notice – For those Plans that are Safe Harbor Plans, this notice must be distributed between 30-90 days before the beginning of the Plan year. For calendar year plans, this is between October and December 1 of each year. This timeframe also applies to Automatic Contribution Arrangement notices and Qualified Default Investment Arrangement notices.
Fee Disclosures – A Fee Disclosure must be provided to employees at least once in each 14 month period. Please double check the last date a notice was provided to ensure you meet the requirements.
Summary Annual Report – this must be provided by December 15th

for calendar year plans that have been extended (Form 5500 will be filed under an extension that provides time to file until October 15th).
It is a good idea to review with your service provider the due dates for your plan if the plan is not a calendar year plan. Most notices are automatically generated by your service provider systems but they may not be responsible for distribution of the notices. We also recommend that you maintain documentation of the dissemination of the disclosure and retain this documentation in the general Plan files in case of inquiry by your auditor or a regulator.
When it's time for an audit for your plan it's vital that you hire a trusted auditor. At Summit CPA we specialize in retirement plan audits. We have the ability to offer assistance entirely off-site with little or no distraction to your daily office routine. We also offer flat-fee pricing so there are no surprises on your bill when the job is complete. For assistance contact our office at (866) 497-9761 to schedule an appointment.