The 401(k) Audit CPA Success Show: Episode 12

In this episode, Jamie Nau sits down with Kim Moore, the Summit CPA audit director, to talk about fines and penalties that are associated with 401(k) plans. We get a lot of questions about this topic at Summit CPA, and it's extremely important information to have, especially as we get close to the 5500 deadline.
Listen to learn about how you can ensure your business is following all of the rules and regulations with its 401(k) plan.
Jamie Nau: Welcome to today's podcast. I'm excited once again to be joined by Kim Moore. Kim, you're going to hit on a very important topic. We're going to talk about fines and penalties that are associated with 401(k) plans. So obviously this a topic with a lot of questions. We get a lot of questions on this. People are always curious, what if I don't do this? What are the possible fines and penalties? So we're going to really dive into that topic. Kim and I were talking a little bit beforehand and we thought it would be important to make sure we understand all the definitions. So that way, when we're talking through the fines and the penalty section, there's not a word or a term you haven't heard before, like, oh, what does that mean? So we wanted to kind of hit on those definitions first. So welcome to the show Kim, let's jump right in.

Kim Moore: Thanks, Jamie. Glad to be here. I know this is a topic that we hear and get a lot of questions on, but it's probably not everybody's favorite subject; especially since some of these fines and penalties that you're going to hear today can be pretty large. So it's not everybody's favorite topic, but obviously very important and something we like to point out, especially as we're getting close to the 5500 drop dead deadline here. We'll talk about that a little later. But that becomes very important. So let's get to those definitions that we talked about. There's a few things that are important here. First one is the plan sponsor and the plan trustee, and also plan administrator. The plan sponsor is actually the company that sponsors the plan. Pretty straightforward. But separate from the company that sponsors the plan are two other names, that are individuals, a plan trustee and a plan administrator. Plan trustee is the person that has overall responsibility for the plan. They're usually the owner of the company, the president, someone at a higher level. They're the one that would have said in the first place, let's have a 401(k) plan and they would have signed off to have the plan. Plan administrator, and again, you can have more than one individual in these roles but you have to have at least one. Plan administrator is the person or individuals with day to day responsibility. So they're the ones that are working with the participants, making sure the contributions get in. They might be a payroll person, HR person again, can be one person or multiples.

Jamie Nau: So do most companies have one or multiple?

Kim Moore: Yeah, it kind of depends on the company size and just their complexity. If it's a bigger firm, a lot of times they'll have more than one. For the trustees if there's multiple owners, usually all of the owners or the majority of them, because, you know, one doesn't want to do it if the others are going to. So you may see multiples there. It just kind of depends on the size of the company and also just how they work. You know, sometimes one person's happy for somebody else to do it and they don't have to be involved. And sometimes that's not true. So it there's no right or wrong with that. There just has to be one. There has to be a trustee, has to be a plan administrator, and they can also be the same person. So we've seen plans where the trustee and plan administrator are all combined into one individual. They serve as both functions, and that's fine as long as there is at least one. We mention all of that because all three of those entities or individuals have fiduciary responsibilities to the plan. And if something goes wrong, which is kind of what we're going to talk about here in a minute, the Department of Labor, DOL and the IRS and any other entity, if there was a lawsuit, for example, they are going to go after those three named parties. And you're going to also hear us talk about fines and penalties, can go against one group, one individual or all of them. They can be different. Obviously, an individual can have a criminal penalty against an entity that's much more difficult. That would be more civil type penalties. So all of those are important because I think a lot of people don't understand that there's this fiduciary responsibility and that there are certain penalties that are actually written into the law. They were written in by Congress over various years. Some of them, the agencies can have leniency with, some they can't. But actually people don't understand that as one of these plan trustees or plan administrators, ultimate penalty, you can go to jail over some of these things.

Jamie Nau: So if you are signed up for one of those three roles, it's important to understand what fiduciary duty means. And obviously it means that you can take penalties. But what does it mean beyond that?

Kim Moore: Fiduciary responsibility means that you have to put the plan and especially plan participants first. So if you're ever in a situation where you have to make a call, maybe it would be in the best interest of the company, let's say, to do a low fee arrangement or maybe to only offer a couple of investment options, that would not be in the best interests of participants. So you would not want to make the decision that way. You always want to either air on the side of helping a participant, giving the participants the extra money if it would come to that, or if you have to just make a decision, you always want to do what's best for the plan and participate, which quite often will not be in the best interest of the company. And if you remember, plan trustees a lot of times are owners who may, you know, get a financial reimbursement. If the company does well, it's in their personal best interest maybe to go with a cheaper option. In this fiduciary role that is not the right way to behave and that can get you in trouble if you are trying to go low cost and maybe push the costs onto the plan, which ultimately gets borne by the participants. That that can be a problem. So those are all things you need to think about. but that's what fiduciary means.

Jamie Nau: Because if I'm signing on as a trustee or an administrator, I have to make sure that I'm thinking about the plan first when I'm making those decisions. I think that's what it comes down to. So again, be careful for when you sign off for one of these two roles, because there's definitely some responsibility that goes with it. I think it's a great definition because it's important that someone has the plan in mind because if they don't then who will?

Kim Moore: That's exactly right. Especially if the Department of Labor looks at I, especially as the employer, so if you're that trustee, so maybe you own the company or you're the president of a larger entity, you have a lot of say in what happens to your employees. So you can hire them, fire them, you determine their compensation. You're determining their benefits. If you look at it from an employee standpoint, which of course, is how the DOL is always concerned, that employer holds a lot of control over an individual because they're getting their pay there, a lot of times they're getting their medical benefits, maybe other benefits. Now their retirement is entrusted through these people. So the employer and this individual, again, president or owner, has a lot of authority to make decisions, which rightly so. They're trying to benefit the company. So maybe they decide they want to sell a division and a lot of people lose their jobs, that they have the right to do that. But because they have so much authority and so much ability to influence people's lives, they did not want them to take advantage of people in their retirement and through their retirement savings. So they take a very, extremely dim view of anyone who's in these fiduciary roles and does not take that responsibility seriously. I mean, when I say they have no tolerance, I'm very serious about that. They understand that these plans are complex. There's a lot of very intricate rules. The rules are changing all the time. So they understand people make mistakes and you can miss something. And I'm not talking about that. I'm talking about deliberate acts that people take. They have no tolerance for that. And they will they will use every bit of authority to go after you if you are doing something that you shouldn't be doing. The other thing I like to mention with this, because this comes up a lot, is that, as I mentioned, there are a lot of rules in this space, a lot more than what we're going to talk about today. And you are responsible also as that fiduciary to make sure that the plan is compliant. And so the DOL and IRS both look at it as your responsibility to make sure that you understand all the things you're supposed to do to remain compliant. And if, you know, we hear this all the time from our clients, well, I didn't know I was supposed to do that. How was I supposed to know? And well nobody told me, or sometimes we'll hear, my providers didn't say that. My provider said something else. The DOL, that is not a valid excuse with them. Lack of knowledge, you know, just cross through that. They'll just say okay, what else? You know, because they will not listen to that. That is not an excuse. So it's very important that, as we mentioned, you sign on to these duties, you take them seriously. If you don't really know what the duties entail, maybe you've never worked with a 401(k) before. Go get some training or ask a lot of questions. You know, be on the phone with your service provider, look on their website because they'll have a lot of good information. It'll take you time to read through it because the stuff isn't easy, but it's in your own best interests, as well as the participants in the plan, et cetera, to make sure that you know the rules and you're keeping on top of them.

Jamie Nau: So maybe I should have someone from the DOL come into my house because my kids try that excuse all the time because, I didn't know I shouldn't take apart my clock.

All: Laughing [in audible]

Kim Moore: It's very similar to how we feel to our clients. It's like, yeah well okay, fine. But you know, you are still responsible. The other thing I like to point out when we're talking responsibility is that it's not only very common, it's almost 100 percent of the time, you're going to use providers to help you with various aspects of your plan. So you may have a custodian that actually holds the investments and they're an expert in that area. You may have a TPA record keeper that's keeping track of all of the participant transactions. So the money coming in and out and they're making sure it gets allocated properly and they're very good at that. You may have an investment advisor that helps you make your investment selections and they know that area really well. You probably have some type of payroll company that you're using to help run your payroll and you're using their system. That's all fine, and like I said, most folks are using that, but it does not relieve you of all of those responsibilities. So if a payroll company makes a mistake and they don't remit something properly or your record keeper doesn't keep track of things properly and they're taking contributions and putting it to Joe's account, that should have been Susy's. That's still ultimately your mistake. So it's very important. We've talked about this on other podcasts that you do some monitoring. You're just doing some overall oversight of the plan. You're looking around making sure that things look reasonable. You know, if you know the market's gone way up and your funds are all losing money, that should be a red flag of what's happening. If really you haven't had a lot of change in your employee structure but you've got huge distributions, another red flag better be looking at it. You know, good idea to do some reconciliation's. Check your bank reconciliation. All those kinds of monitoring we've talked about. I don't want to spend a whole bunch of time on that. But those are all important to make sure that you're checking on those providers because again, DOL especially, will have no tolerance for you saying, well that was ADP's fault. You know, how was I supposed to know? Nope, it's your fault.

Jamie Nau: I think it goes back to any area of a business. If you're the CEO, if you're an owner of a business the way you find out more about something is asking a lot of questions. I don't think this is any different. You want to ask if anything seems odd to you or something you want to know more about, ask a lot of questions and ask them to the providers. Ask the TPAs. Ask anybody that can really help you out, I think that is important. You're signing your name off here and we're going to go through some of these penalties and fines and stuff. I'm sure no one wants that happening to them. So just really asking those questions because ultimately you are responsible.

Kim Moore: Absolutely. Yeah. Very good point.

Jamie Nau: Great. So any other definitions or guidelines that we should lay out before we kind of start going through some of those fines and penalties?

Kim Moore: I don't think so. The only other thing I would say is we're going to talk about fines and penalties here today, which is primarily going to come from the Department of Labor or the IRS. We'll talk specifically about that. But keep in mind that there may be other regulatory agencies that may come into play. We're not going to spend time today talking about those, but make sure that you understand all of the bodies that can oversee your plan. There may be some state agencies as well that might get involved. And the last thing I'll mention is the absolute worst case scenario, is you would get sued over something going on here. And most of the things that we're going to talk about today could get you into lawsuit material. So probably not likely, but it does happen. And even the Supreme Court can get involved sometimes in listening to things related to a 401(k) plan. So for most of our listeners, probably not that important. It's more DOL and IRS, but kind of keep that in the back of your mind that that is also a possibility.

Jamie Nau: Yeah I think there's a reason there's employee law and people who specialize just in employee law, because that obviously happens all the time. Where employees get dissatisfied with something that happen either with their 401(k) plan or anywhere else, and then they come back and sue their employer. So I mean, obviously, it's very common. So yeah, that's a good point. Great. Let's go through some of those fines and penalties. What's the first area that we need to make sure we're paying attention to?

Kim Moore: Yeah, we're going to start with the Form 5500, because that is probably uppermost in a lot of folks mind. It's for calendar year plans. It is was originally due at the end of July, but most plans can file and get a kind of automatic extension until October 15th. But as of the time that we're doing this podcast, no extension beyond that for this year. We're all kind of hoping that maybe the DOL might give us a little bit of a break. But as of right now still October 15th. And if you go one day beyond October 15th, so you file on the 16th, then we're into this kind of fines and penalties territory. Just as a reminder, and I know we've talked about this on prior podcasts. You need to file the 5500 through the EFAST system. So it is a tax return information only. You're not going to submit any money with it. It looks very similar to any other tax return, but it must be filed electronically. You cannot submit it via paper as you can other tax returns. It's due by the 15th. As long as you filed by the 15th, then you're good. But anything after that, you start getting into the potential for fines and penalties. So this is where some dollars are going to come into play. I just went and pulled the fines yesterday to make sure I had the most current information. Now there's kind of two components to this. Most plans, almost one hundred percent of them will need to file what's called the Form 5500, which is that tax return. If you have not filed the Form 5500, so just the tax return, that's the IRS's space and they are allowed to fine you $250 a day for every day that you're late. Up to a maximum of $150,000 per year for not filing the Form 5500. And keep in mind for both these IRS and DOL penalties, even though we're talking, you're now October 16th, you know, October 17th and then it goes day to day by day after that. These penalties, if you miss that October 15th deadline, the penalties start back August 1st. So even though you filed an extension, it was valid. It was accepted. If you don't meet that October 15th date, that's null and void. It goes back to that original July date. So already at October 16th, you've missed August, September and half of October. So you can do the math 150 times, however many days that is. And then, of course, grows day by day by day. Department of Labor, now if you need to have an audit report attached to the Form 5500, we've talked about the requirements for that and another podcast. Then there's an additional fine. That's where the DOL gets involved because they're concerned with the audit report. The fines go up significantly here. The Department of Labor, they're fine is currently $2,233 a day. And how they came up with that weird amount, I don't know. It's based on inflation, but $2,233 a day per day with no maximum. And again, that goes back to August 1st. So accumulate over $2,000 per day, starting with October 1st, up until the day you file, and that's on top of the IRS penalty. There's two separate penalties. So you can see every day that you do not file this, you're starting to rack up some big bucks.

Jamie Nau: I was doing some of the math for us. So on the 75 days from August 1st to October 15th, times the 250 that's starting at $18,750. So that first day you miss, you're up to $18,750. Now for the IRS. You said $2,233. Let me do the math there and see how much. So that's $167,000 on that one. So that obviously that adds up pretty quickly.

Kim Moore: It does. Yeah, it does. So the obvious question is, oh my gosh, it's now October 16th. What do I do? Because, you know, if you've missed the day, you missed the day. There's a couple of things that you can do and a couple of things that not only we suggest, but I just got some information from the INCPA, which is our audit and accounting governing body, and they suggested that you go ahead if you can if you've got your 5500 done and you do not have the audit report done, go ahead and file it as soon as you can and attach a note indicating the audit is in process and you will attach the audit. You'll refile the 5500and attach the audit as soon as it's completed. We've had several clients do that and it's turned out favorably. That's no guarantee that it will, but that is something that will help stop that first. Fine, because you will get the 5500 filed and it can help you with the DOL if, you know, they happen to get in and see it before you actually get the audit finished. The other thing that you can do is something called the delinquent filer program. That's a DOL program that you can go in and you actually are filing through that program. There is a fine associated with doing that. So you are still going to get a fine, but it's much less than that $2,000 fine that we talked about. Now, you can only use that option if you're doing it before the DOL catches you. So if you get a letter from the DOL saying, hey, where's your audit report? Too late, you can't use that because you can't say I'm voluntarily doing something when really the DOL was telling you to. So you would have to do that pretty quickly after the original due date. The other thing that can happen with this, the DOL may go in and see that you filed a 5500. There's no audit report attached and they usually send you a letter and it'll come certified. It's a hard copy letter. So don't file for some cyber security scam. They're not going to email, they are not going to give you a phone call. It will be a hard copy certified letter that will come to your office. It will have a hand stamp date on it. And that dates really important. The letter will tell you that you didn't follow the rules and it'll have a lot of legalese in it saying you didn't file your audit report by the due date, and they will give you and this is per statute, 45 days to correct that. So from the date that I said it's hand stamped on there, you have 45 days from that date to get the audit completed and attach it. As long as you do it within that 45 days, they'll usually, I can't guarantee again, but they'll usually waive the penalty. If you ignore that and it goes to the second letter, you're automatically at a $50,000 penalty, and then it'll build from there. So absolutely do not ignore any kind of notices that you got. You want to make sure that you pay really close attention, follow whatever they say in the letter. I always tell people, even if you totally understand what's in there, it'll give you a phone number or an email contact. I'd go ahead and try to reach whoever the person is that's the contact. And just so they know that you did get it, and you are taking action. You know, I'm serious about this I understand. That will help you in the long run. The other thing I would tell you with those 45 days, if you have not engaged in an audit firm yet, getting that audit done, you know, finding a firm, engaging them and getting the audit done in 45 days is going to be very difficult. So I would not go down that path because it's going to be very difficult.

Jamie Nau: You can tell we have done a lot of podcasts together now because you're anticipating my questions now.

All: Laughing [in audible]

Kim Moore: It is possible. Actually we've done that more than once for folks. But to make that happen from the client side. So this would be the sponsor of the plan, they have to put that as number one priority above everything else, because if I'm asking for something, you got to turn it around immediately. And same thing on our end. We've got to put that audit to the top of the pack. Otherwise it just won't happen. But that's a very quick turnaround.

Jamie Nau: So it's obviously important that you speak with the auditors and they know what they're getting into and they know all the deadlines and all that stuff, as most auditors do. But I'm also sitting here thinking what you're talking about. You know, obviously I'm on the CFO side of the business and some of the clients that I've consulted with and how many times we've tried to save $20,000 or $50,000 or $100,000. Just one of these penalties can wipe that out pretty quickly. So obviously, all of these tips given are very helpful for all companies because they're always looking to save money and these are preventable costs that no company wants.

Kim Moore: The other thing I'd mention on the on the cost side, if you got into that position where you have ignored a notice from the DOL or the IRS, especially DOL, or you just get into a bad situation. And so now you're sitting here with $50,000 or plus fine people say, what do I do? I can't afford that. I can't pay. That best solution there is to go get an ERISA attorney. You mentioned an attorney. There are attorneys that specialize in handling this type of, it's not litigation, but it turns into almost litigation and they are extremely expensive. So, you know, you're talking thousands of dollars an hour of fees to try to defend against this $50,000 fine. So you just don't want to go there. It's ugly when you go down that path there's no good resolution. And it's going to cost you a lot of money, a lot of time. You're going to be extremely frustrated. So just don't even go there. Get your 5500 filed. Make sure it's on your calendar. You need an auditor, get them right away and get going. Don't even try to go down the other path because it's really ugly.

Jamie Nau: Yeah, because again we're talking some pretty big numbers here. But for the most part it's avoidable. But it's not avoidable if you just start thinking about it on October 10th. You're not going to get out of there and get all that stuff done. So you do need to put some planning in place to make sure that everything is ready to go.

Kim Moore: Absolutely. And surprisingly I will get calls on October 10th, asking that very question. So they need to listen to these podcasts.

Jamie Nau: I think we have beat up the 5500 pretty well. Any other areas where you could possibly have some penalties that you think their listeners should be aware of?

Kim Moore: Yeah, I wanted to mention just a couple of other things. Most of these are not big deals and fairly easy to take care of. One is, is the ERISA bond that's required for the plan. We've talked about this and other podcast's deal. DOL hot button. They're really kind of paying attention to this and they could give you a fine if you do not maintain the bond. Bond is required every year. It needs to be 10%at the beginning of your assets or $500,000 or a million dollars if you have employer securities in your plan. Fairly straightforward, easy to get. Inexpensive. Absolutely no reason not to do this. And, you know, try to hope the DOL doesn't touch it. There's just no need to do that. It's inexpensive and easy to do. The other thing we like to bring up and again, we have talked about this before, is late contributions and especially missed contributions. So late contributions if you do not submit the contribution as quickly as possible. And we've talked about this in another podcast, so I don't want to go down that path. You know, you can listen to some of our other podcasts about this, but that will incur potentially fines and penalties as well, and especially if the DOL catches it. If you don't catch it yourself and the DOL catches it, they can impose some pretty hefty fines as well. So if you're not sure what I'm talking about, check out some of our blog posts and our other podcast because there's more information on that. A more serious issue though, is that you've missed contributions. So you withheld money from employees and never remitted it to their 401(k) plan. The DOL again takes a very dim view on that. You're using somebody else's money, just like I always say, if you don't remit your sales tax that's owed to the state, you're using the state's funds. And they don't like that either. So absolutely don't do that. I mentioned earlier the criminal side of things. If you're one of these planned fiduciaries, they can impose criminal penalties as well as civil penalties. This is usually where that comes into play. Where the company has withheld money and then not put it into the 401(k) plan. If it's just a mistake or, you know, just administrative error, that maybe you recognize that you did it later, they can impose fines which can be imposed at the plan sponsor level, so the company level and/or at these individual levels. If they were to impose it on you as a trustee or a plan administrator, the company is not allowed to reimburse you for that, or to pay that fine. You individually have to pay it. So you know, we've talked about some pretty big fines here. So if you were to be doing things with the employee funds that you shouldn't be, just stop and think you could be getting a large fine and you personally would have to pay for that. Which probably means they're going to put a lien on your house and everything else. And if it's the worst case scenario where you took the funds yourself and you were using it to fund company operations, or you decided, I really want to go on that really nice vacation and I didn't have the money to do it, so hey, I'll just use the money out of my 401(k) and not my personal 401(k) but the company 401(k) and I'll maybe put it back later. They catch you doing that, you're probably looking at some time in a federal prison.

Jamie Nau: I know it sounds pretty extreme and it sounds uncommon, but I mean, this definitely happens. I know both Kim and I have taken plenty of courses on this and even in college and after college, because it definitely happens a lot more frequently than you'd like to think. So it's not uncommon for someone just to feel desperate enough that they need to find cash from somewhere and they look to the 401(k) and then obviously all the penalties that come with it.

Kim Moore: Yeah and don't think that it only happens in the big companies because a lot of times you find smaller companies that run into financial difficulties. You know, we've just been going through the COVID pandemic. I know a lot of businesses are struggling, but don't look to this as a means to get some extra cash. It's not what you want to be doing. So I absolutely just don't do it. Don't even think about it. Take it out of your mind because it's not worth it. You don't want to be caught with it.

Jamie Nau: So I am going to take a quick second to throw our email address out there. We're always looking for new topics and guests, and questions from our listeners. We'd love to hear from you. Our email address is: audit@summitcpa.net. We'd love to hear from our listeners and get more topics because we want to keep this podcast fresh and hit the topics that you guys want to talk about. So just a couple of minutes left here. Any final thoughts or any areas you didn't touch on that you think we need to make sure our listeners hear?

Kim Moore: No, I don't think so. I was just going to throw out that email address that you threw out there, Jamie, if anybody has any more questions on this, I don't know when you're going to listen to this podcast, but if you're getting closer and closer that October date and you're kind of concerned, you want to run some ideas by me, feel free to use that email address. Either I or one of my staff will get back to you A.S.A.P. and try to get your question answered and help you out. We usually each year sign a number of new clients in September and October, and we'll work as quickly as we can to get those audits done to try to help avoid these penalties that we talked about.

Jamie Nau: In addition, if you're interested in any information, and we talked earlier about the fiduciary having to be in the know and understand what's going on, feel free to email us and we can send you some blog posts that we've written, or other training videos that are out there that might give you a real quick summary of the kind of things you should be looking for and be knowledgeable about. I think that'd be a really good reason to reach out to us, we're here to help. We definitely want to make sure that people aren't getting those penalties. As I said, I've been on the CFO side of the business long enough. I know how much those costs can add up.

Kim Moore: So absolutely. Yeah, one penalty here and it could wipe out your whole year's income.

Jamie Nau: Okay, well, great topic. Kim, I appreciate you chatting with us today.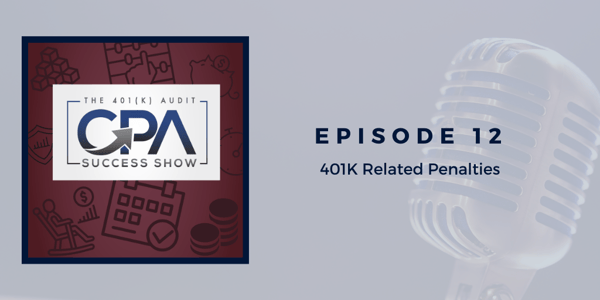 Share this podcast episode on Twitter:
The 401(k) Audit CPA Success Show 🎙️ by @SummitCPAGroup:
Episode 12 - 401K Related Penalties 👉 https://ctt.ec/GZcHp+
---
Want to listen to more Summit CPA podcasts?