There are many different investment options available to a Plan Sponsor when initiating a new or administering an existing 401(k) Plan.
401(k) Plans held with an insurance company often offer an investment vehicle called a Separate Account or Pooled Separate Account. These accounts offer options from multiple providers into one managed account. They often provide mutual fund options and are usually offered through a group annuity contract.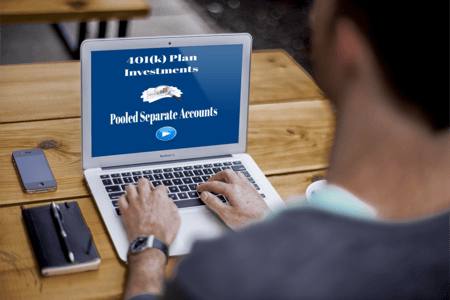 Separate accounts function similar to retail mutual funds as the participant owns units in the individual investments that make up the separate account. These units represent ownership in the total commingled separate account. The individual investments are charged fees similarly to mutual funds and the performance of each underlying investment can be monitored like a mutual fund.
Separate accounts are regulated by state insurance companies. They are subject to periodic audits and most file separate audited financial statements which can be requested for review if you are interested. The accounts are called "separate" as they are segregated from the general funds of the insurance company. They are protected in the case of financial difficulties of the insurer.
With separate accounts, it is important to understand the fee structure involved. Your investment may be subject to something called revenue sharing. This is a fee charged for recordkeeping that may be based on asset value or other determinations. Sometimes the fees are levelized across all funds, so participants are charged the same fees regardless of fund selection. Review the annual participant fee disclosure to verify the charges made to your account and compare these charges to other similar investment types to ensure you are receiving as low a fee as possible. Also compare performance for similar investment types to ensure you are receiving an adequate return.
It's vital that you hire a trusted auditor when it's time for your plan's audit. At Summit CPA we specialize in retirement plan audits. We have the ability to offer assistance entirely off-site with little or no distraction to your daily office routine as well as flat-fee pricing so there are no surprises on your bill when the job is complete. For assistance contact our office at (866) 497-9761 to schedule an appointment.