Do You Know Your Plan Fiduciary Responsibilities?
Do you assist in administration of your company's 401(k) Plan? Do you provide oversight to the Plan? Do you file the Form 5500 for the Plan? If so, you may be one of the Plan's Fiduciaries. If you are wondering what that means and why should you be concerned about that – read on!
Each 401(k) Plan is required to have at least one named Fiduciary. There often is more than one, but it is a legal requirement to have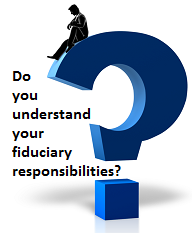 at least one. For larger plans, a committee or group of individuals may serve as the Plan Fiduciary. Those that work with the plan on a regular basis, make decisions for the Plan, and provide advice to the Plan and those that provide oversight to the Plan are all fiduciaries with regard to the Plan. If you are the Plan Trustee or plan Administrator, then you are a named fiduciary to the Plan.
Why does this matter?
It is a legal requirement that Plan fiduciaries act in the best interest of the Plan, Plan participants, and their beneficiaries. A decision may require acting in the best interest of the Plan but not in the best interest of one individual at the Plan Sponsor (company providing the 401k Plan) or in the best interest of the company itself. In these cases, fiduciaries must always act in the best interest of the Plan. Also, fiduciaries are required to carry out their duties prudently. Mistakes can happen but those in a fiduciary capacity must review Plan requirements on a regular basis to ensure the Plan administration is carried out in such a way as to minimize errors.
Fiduciaries are also responsible for ensuring the Plan is following all regulatory requirements and that it is following the Plan Document which governs Plan administration.
Lastly, fiduciaries need to ensure plan investments are diversified and that plan expenses are reasonable.
Penalties can be imposed upon fiduciaries that do not carry out their assigned responsibilities. These penalties usually involve fines, but criminal actions can be taken in cases of fraud or severe negligence. For more information concerning the Fiduciary role within a 401(k) Plan, we recommend you review the guidance provided by the Department of Labor.
*Be sure to check back with us tomorrow when we discuss the Fiduciary responsibilities in our blog.
Do you need an audit for your 401(k) Plan? Consider a specialized firm like Summit CPA Group. We can provide a quality benefit plan audit that is efficient and accurate. If you would like to discuss our audit process in more detail contact our office at (866) 497-9761. We also offer flat-fee pricing so there are no surprises on your bill when the job is complete.