The 401(k) Audit CPA Success Show: Episode 9

In this episode, Jamie Nau sits down with Kim Moore, the Summit CPA audit director, to talk about how COVID-19 is affecting 401(k) audits. You wouldn't think that the pandemic would have much of an effect on your audit.
However, many CPA firms are overwhelmed right now just trying to support the basic business of their clients who are facing a variety of challenging situations. As a result, 401(k) audits are falling low on the priority list.
Jamie Nau: Hello, everybody. Welcome to today's podcast. Once again, you have Jamie and Kim here to talk about 401(k) audits. Today we're going to talk about how the COVID-19 pandemic has affected the 401(k) world. So originally when are planning the podcast, we're trying to think through okay, how does it apply? And you start-off kind of broad saying, oh it doesn't really apply here and there. But then you come up with this list and of course, this pandemic has affected everyone. So it was interesting to see what we came up with in terms of ways that the 401(k) audit world has been rocked by this pandemic. So Kim, if you want to start off by some of the things that we'd be thinking about with how this new environment is affecting the 401(k) audit world?

Kim Moore: Thanks, Jamie. Glad to be here. You wouldn't think that the pandemic would have that much impact on 401(k), and especially we wanted to talk today about 401(k) audits, but we're finding that it does have an impact. If you think through with your audit firm that either you have been working with in the past, or maybe if this is going to be your first 401(k) audit, you know, you might be looking for a CPA firm, we're finding that it is impacting a lot of the firms. Most CPA firms, unlike Summit CPA, do a lot of different work for their clients. The 401(k) audit that they might be performing for you is a very small portion of the work that they might be doing with a particular client. We're finding that the CPA firms are very busy just supporting the basic business of their clients. So helping them with their cash flow issues, helping them with a lot of the federal assistance that's out there, various loan programs and direct grants, they require a lot of work upfront just to provide all the documentation to get the loan or get the grant. And then they're going to require ongoing maintenance to support the loan, or the or the grant. So it's not just one and done. It's an ongoing effort. Then also, of course, with the pandemic going on is some of the lockdown's that have happened, businesses are in various positions, good and bad, in terms of retaining clients, retaining business. It could go either way. So they're either very, very, very busy or maybe not busy at all, and they're turning to their CPAs to help them through that.

Jamie Nau: So what you're saying is essentially they're seeing a ripple effect, right? So while the 401(k)s may not be directly affected in a lot of ways that the CPA firm that you're working with has been affecting a lot of ways. Again here at Summit, we've been working like crazy on all of the PPP loans and making sure our clients get forgiven, and get those loans, and then dealing with their cash flow issues. Now we're a separate department. It's a separate group of people, but a lot of firms are structured that way. So you have people that are working through that and the 401(k) audit has fallen to the back of their mind because they're so busy with this PPP loan stuff. And so that's essentially what you're saying, there's been a change in priorities a bit within CPA firms?

Kim Moore: That's exactly right. We haven't even mentioned that the tax implications to businesses. Just because we had the pandemic, it doesn't mean that your tax reporting obligations have gone away, or your tax payment obligations. And there's all different varieties of taxes. There's federal taxes, state taxes, local taxes. There's property taxes in some locations, all different kinds of taxes. None of that went away. It's still there. But in some cases, the deadlines have moved back, which can be a good thing, might give you a little bit more time to work with your CPA to get the reporting done and or the payments done. You might need a little extra time to make those payments. It can also be a bad thing though, because then that time that they might have had in the past to do your 401(k) audit, because the tax work was already done, now that time isn't available because they've got to spend time doing the business or the personal tax returns for a lot of their clients. So that's what we're hearing from a lot of other CPA firms, is that their time frames are being compressed because they've got so much more work, and then they've been given extensions on the tax deadline. So they're pushing those back because of all that other work that they've got. And that's going to run into the 401(k) audit timing that they would normally use to get these 401(k) audits done. Another thing I'll mention is that most plans are on a calendar year basis, so their plan year runs from January 1st to December 31st. So obviously they would be working on 2019 audits during the current time timeframe. So those deadlines for those plans, which again is the majority of them, would be the original deadline of the end of July. And then you can get an extension if you file for the extension, that would give you an extension until October 15th to get the 401(k) audit done. To get the audit filed with the form5500. Those are the deadlines for that. Those deadlines as of right now have not changed. I know a lot of the tax deadlines have moved back, but the last date that got moved ended at the middle of July. So it did not impact those calendar year plan deadlines. So unfortunately, everything is getting pushed back. But as of right now, the 401(k) date have not moved back.

Jamie Nau: So do you predict, again a lot of people, not only auditing companies, but companies on their own are focusing on different things. Do you predict a lot more extensions this year if those dates stay the same?

Kim Moore: Yeah, I think that we find a lot of companies that need a 401(k) audit go into that extension timing from the end of July to October 15th just because it takes a long time to get the audits done. A lot of the documentation you need for 401(k) audit plan isn't even ready in a typical year. This is not has anything to do with pandemic, but it isn't really ready until April, May. So most firms don't even start on 401(k) audits until usually May, June, July. That doesn't leave you a lot of time to get them done by the end of July. So yeah, we typically see a lot of work done between that August, September, October timeframe. Again, that's going to be tough this year because for firms that are doing a lot of that other work, it's tough to get the audits done anyways. Now when you've got all this other work, you've got compressed timelines anyways it's going to be really difficult. Just keep in mind, unless the IRS and the DOL do something between now and when those deadlines occur, there is no extension as of right now beyond October 15th. So if you do not get the audit started, or don't get it done, or your CPA firm is just bogged, that maybe they have good intentions, but they get bogged down with other things. So it gets to be October 15th the audit is not done, unless there's an extension from October 16th on now you're going to be late and you're going to have to go down some other path, which we can talk about here in a little bit. You don't get another extension. It's not like you could file for another extension beyond October 15th. That's it. There's no more extensions beyond that unless the IRS or DOL does something for the pandemic specifically.

Jamie Nau: So assuming these timelines aren't going to change, again you said if people are trying to hit that first deadline, the July deadline, then obviously fieldwork would have started already. But if not, then it'll probably be starting within that August, September timeframe. How do you see these audits looking different now that people are working from home and offices are closed? Like, how do you think that will affect the overall audit?

Kim Moore: Yeah, from an audit standpoint, we have things that we have to do as a part of the audit. Those are driven by DOL requirements, IRS requirements, and then just general audit standards require a variety of things start to occur during the audit. We are not allowed to relax any of those standards just because of the pandemic. You might be able to do some things differently, but the end results, whatever objectives you're trying to achieve, those still have to be achieved regardless of anything else that might be going on. So what we're seeing from the audits that we've already started is that we get some documentation from the record keeper, custodian, various service providers that a client of ours might use. Some of those items have been delayed. Just getting them, the original documents is taking a little bit longer. All of those providers, you know, they work all over the country. They're in various locations, but they were in a lockdown as well. You know, it might have been short, might have been long, might still be under lockdown. So those folks are working from home and they're not really set up for that. So we're seeing some delays on that end, just getting the original documentation. We also have to get documentation from our clients. Clients are in the same boat. They might be in lockdown, might have to work from home, might have capacity to work from home, might not. So that's delaying things somewhat. We're also seeing records, if records are kept as paper, they may be in an office that the client can't get to because they're not legally not allowed to enter the building. So that's causing some delays. There are also procedures that you need to do, whether that's inquiry with particular folks that maybe are involved with the plan or participants. We do need to do confirmations with participants. They may have been furloughed. So it's difficult to get a hold of them. Technically, they're not really working for the company at that particular time. So that's causing problems, causing delays. There's all kinds of issues that we're running into that are a little bit unusual for folks that are not used to working in a virtual kind of distributed environment like we do at summit, you know, this is kind of what we do. This is normal for us. But it's not for a lot of folks. So we are finding some kind of interesting dilemmas that we run into and we're finding ways to work through it and work around it. We're trying to get the audits done as quickly as we can and get them done up to a point. In some cases we've had to put them on pause for a little bit, wait for some reports that, you know, maybe a service provider they're not quite done yet, or maybe we get some of the confirmations back and we have to wait for people to, you know, to get a hold of the confirmation and return it. Or maybe they come back to work. So we have had some delays on that end. I would encourage folks that are out there that need an audit that haven't started them yet, I know 401(k) audits are not at the top of your list, but just, you know, just keep in mind that as of right now the dates have not moved. Even if they do get moved, we're not sure what that's going to look like. Is that going to give you maybe another month or two, which we just don't know? And you don't want to kind of put in your back pocket that I know they're going to move the dates, so I'm not going to worry about it. Then if they don't move the date now you're in real trouble because you've got to get an audit done. You know, we don't know what's coming. Maybe your business is going to pick back up again and you're going to be swamped come July, August, and that was the time you were planning to do your401(k) audits, now you just don't even have resources to support the audit. So the sooner you can get started, the better just to make sure you're not going to be late in terms of getting that done.

Jamie Nau: I think that's good to mention. I think you talked a lot about the companies adjusting to this work from home environment. I think a lot of the CPA firms out there as well are adjusting. I know you said we've been doing it for a long time, but if the firm you're working with usually comes out there and spends three weeks in the field, this audit is going to be unique for them. You may have to be patient with them in the type of requests they're giving you and the way they're sending requests and things like that. I think that's the other part of it, is that, you know, I'd say the majority of firms still doing these audits in the field, they're adjusting to it as well as you are.

Kim Moore: That's very true, and they don't have the infrastructure set up technology wise to support these like we do. So they may not have a portal, or some other technological mechanism to get the documentation that you need. I mean, if you think about what did you experience from your auditors in the past? They would give you a list of here's all of these hundreds of items that I need, and you might go pull those from files or you're gathering information maybe on a flash drive, or something to give them when they come in the office. Well, that's not going to be an option now. So how are you going to give them those documents, and think about what's included in those documents. Highly confidential information. You know, it's just a security nightmare to try to you know, you don't want to be sending those via email. So you want to make sure whatever your auditor is proposing, that not only is it efficient for you, but that it's secure because you don't want that data just floating out there. So you want to find out how are they going to have you submit the documents? What's going to happen to those documents when they get a hold of them? You know, what's their retention policy? All those kinds of things come into play when you're talking about these audits in this new environment, because that's different than what you've had to do in the past.

Jamie Nau: I think the big tip there too is, you know, if you haven't contacted your auditor yet, contact them now, reach out to them and say hey, I know we usually start audit field work in June, I want to make sure you're prepared for that and that, you know, you have controls figured out. Ask those type of questions, because to Kim's point, there's a lot of sensitive information going back and forth. You're talking about people's Social Security numbers, people's pay rates, a lot of stuff that, you know, your employees won't feel comfortable that you're sending. So now is the time to reach out to your auditor and just ask those questions about what their plan is. Make sure that they have a plan, because it's kind of how we started off that the podcast is a lot of CPA firms probably haven't really thought about 401(k)s yet because of the tax extensions, PPP loans, and trying to get that stuff communicated. They might have not thought of that yet. So reaching out to them to make sure they're prepared because if you don't like the answer they came back with you might need to find another auditor somewhere. So make sure you have the time to do that.

Kim Moore: Absolutely. Yeah, and you know, your auditor may not have thought through all of those questions, so you need to make sure that they've got time to work through that. If they don't have an electronic mechanism to submit that, that is going to take them time to figure that out. Get that set up. Get their people trained on it, get them access to it, get you set up, get your training, so you don't want to leave that to the last minute. What I'm really afraid of is that if you wait, or the auditor says, oh, yeah, we'll be ready to go, they may get just so busy that at some point in time they're going to call you back, say, look, you know, I meant well, but I just don't have time. I am not going to be able to do it. Then you're going to be scrambling, trying to find an auditor that does have time, and can fit you in.

Jamie Nau: Especially if you are getting close to the deadline.

Kim Moore: Absolutely. You know, it might increase your costs, too. So you want to keep in mind that, you know, I know everybody's cost conscious anyways, but given the pandemic and some of the restrictions that have been placed on just revenue and cash flow and everything else, the last thing you want to do is have to pay more for a 401(k) audit. So the sooner you get started on everything, the better off that you're going to be.

Jamie Nau: For sure. So I'm just going to take a quick second out there and throw our email address to the listeners. Again, we're always looking to improve our content and have guests. If anyone is interested in coming on and joining us, or in asking questions. or just shooting us an email and saying, hey, can you cover this topic? We'd love to hear from you. So that email address is: audit@summitcpa.net. We'd love to hear from you because again we are always looking to make the show better and we want your input on it. So Kim, what else should we be thinking about? What are the topics the are relevant to this that we would make sure we touch on?

Kim Moore: One of the last thing I was going to mention, well a couple of things, not only are our standards not relax due to the pandemic and everything that's going on, but the Department of Labor, IRS, all of those groups that are in charge of oversight from a regulatory standpoint for benefit plan audits, their standards have not relaxed at all as well. So anything that you are required to do for your 401(k) plan from a compliance standpoint, that's all still in play. No relaxation there. Keep in mind that Federal agencies have gone through similar cuts, and similar restrictions just like everybody else. So it's going to be harder to get a hold of them. If you have questions, you know, you may have trouble getting hold of some of your providers as well. So just make sure you leave time for everything that you need to do. But also understand that you're going to be held responsible for compliance. No changes there. No relaxation at all from their standpoint. Still need to keep up to date on everything that you need to do for your 401(k) plan. Also the 401(k) plan controls that you have in place, I know it's difficult. Everybody always wants to say in a difficult time like this, and you may have had to either let go some of your staff or furlough some of your staff, controls are one of the first things that tend to go in that kind of a situation. Just keep in mind you as fiduciary for the plan, if your plan administrator, plan trustee, or you just work with the plan on day to day basis, you have a fiduciary responsibility to the plan and the plan participants. That didn't change with the pandemic. So you need to make sure all those controls are in place. You have probably heard on the news that fraudsters are taking advantage as they always do whenever there's any kind of disaster, or difficult time going on, they're doing the same thing with this pandemic. Unfortunately, benefit plans are not immune. So we're seeing increased cybersecurity risk with regard to these plans. So control is very important. Access levels are very important. So as you're changing potentially staff at your locations, make sure that if you let some people go and they had access to the plan, especially at an administrative level, make sure you get those access levels either changed, or removed as quickly as possible. You don't want to allow a fraudster to get in and take advantage of anything going on with your plan. Also pay particular attention to any kind of disbursements, or loans that your participants are taking. This would be an opportunity, again, for a fraudster to get in there and try to take money out of somebodies account. That's the last thing you want to happen with everything going on is, is that one of your participants retirement plan gets raided as part of a cybersecurity attack. So be very, very careful with that.

Jamie Nau: So it sounds like maybe you need to add some additional controls around that. Maybe even do like a weekly report that shows you loans taken out and confirm that, or something to that extent where you want to have some additional controls in place. Like you said, during these tough times when things have changed people try to take advantage of that.

Kim Moore: Yeah, and you've probably got a lot of movement going on with your employee base, too, so you may not know if Suzy is still working with us. You know that can change on a daily basis with everything going on. So just pay particular attention because it is an area and we are seeing some activity on this area. So be careful. The other thing I was going to mention is that if you do run into trouble. So maybe you cannot get the audit done for a variety of reasons, maybe you're just not prepared to support it from the plan's sponsor side. Maybe you're running into trouble with one of you providers, or your auditor just isn't able to do it, there are options if you miss the due date. So right now, that's the end of July October 15th again, could change based on IRS and DOL. But regardless if you can't meet the deadline, some things that we recommend is if you can file your 5500 even with the out the audit, we recommend that you try and do that if you can. That shows good faith effort and put a note in with the 5500 indicating that due to COVID-19, you know, blah blah blah, whatever the situation is at your particular company, you know, you're working on the audit, but it's not quite finished yet. I was on a call earlier this week with a representative from the Department of Labor, and she actually was recommending that. That you do the best you can to get the 5500 filed, include a note indicating the situation. Then get the audit done as quickly as you can so that you know, you're stopping the timing, but that will at least show them that you're making a good faith effort. That maybe there was some other complicating factors in there. There also is a delinquent filer program available. So again, if you are not able to meet that deadline, you can file through that delinquent filer program. There are penalties associated with filing late, but that will give you a much lower penalty than if you do not go through that program. So that's another option. If you want to take advantage of those talk to your service provider. They should be able to give you some additional information on that. But those are some other options. Hopefully you don't need them, but if you do, some suggestions that that we always like to throw out there.

Jamie Nau: I think that's really good. I think that's a very common question. Especially now, what do I do if I can't get it done? I think it's very helpful. And I think what we talked about earlier is key. You know, we just did a couple of podcasts on the findings, and types of errors. To your point, those are not going to go away just because things changed. Just because you are working from home now, you've let go of a couple of employers doesn't mean that those findings still won't be relevant, and that they're going to have any less penalty associated with them. So again, a lot of people are trying to take advantage of these times so you want to make sure you don't do anything to put your 401(k) plan at risk. So I think those are all really good points. And you want to make sure that you're thinking about the 401(k) plan during these tough times and how exactly you're going to have those fiduciary duties not compromised. So very important.

Kim Moore: Absolutely.

Jamie Nau: So do you have any other final thoughts for the listeners? I think you have thrown a lot of information out there. I want to make sure we cover everything.

Kim Moore: I don't think so. I just would recommend to everybody don't forget about the 401(k) Plan. I know it's not at the top of the list, but it needs to be on your list, and you need to pay a little bit of attention to it. If you do need an audit, you know, get with your auditor as quickly as possible. If you need to get an auditor, either it's your first audit or maybe the auditor you've used in the past is not going to be able to support it, get on trying to find one as quickly as possible. You know, we at Summit would be happy to help you, or give you some advice. If you're running into difficulties with finding an auditor, we'd be happy to give you some booklets that we have to help you select an auditor, or give you some advice. We do offer free consultations here. So just take advantage of the email address that Jamie gave out earlier. You know, send us a note, and we'd be happy to give you a call and give you some advice on that line if need.

Jamie Nau: All right, well, thanks for all your information Kim. You put a lot of work in putting this together. I appreciate that and I'm sure our listeners do as well.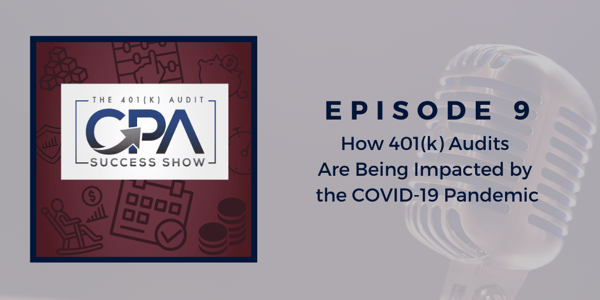 Share this podcast episode on Twitter:
The 401(k) Audit CPA Success Show 🎙️ by @SummitCPAGroup:
Episode 9 - How 401(k) Audits Are Being Impacted By The COVID-19 Pandemic 👉 https://ctt.ec/JdL87+
---
Want to listen to more Summit CPA podcasts?