It is the start of a new plan year for your 401(k) plan.
One of the items that would be good to double check is the amount in your plan's forfeiture account. This is an area that is often overlooked unless your service provider points it out. It is potentially a source to your company to pay expenses for the plan or fund Employer contributions. Don't turn down money you can use to your plan and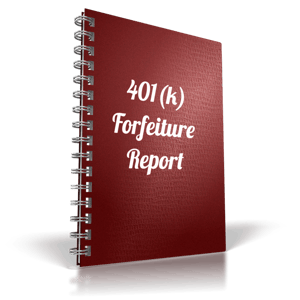 Company's advantage!
If your 401(k) plan has made employer contributions to your company's 401(k) account, you may have built up amounts in an account called "Forfeitures". In some cases, the account may be called a "Suspense" or "Holding" account. The terminology depends on the vendor.
This account holds amounts that accrue when an employee leaves the plan and their account is not fully vested. Funds can also accumulate in this account due to distributions made to a participant but the funds (usually a check) are returned uncashed to the plan.
Forfeiture accounts need to be cleared as soon as possible but only for the transactions allowed by the Plan Document. Usually, the funds can be used to pay plan expenses or to fund future employer contributions. In the case of uncashed checks, the Plan Sponsor needs to identify the participants involved and work with their service provider to locate the participant. It is the responsibility of the Plan Sponsor to ensure all participants receive their requested amounts.
It is important to review the plan financial reports to see if you have any forfeitures that can be utilized. Ask your service provider for assistance, if needed.
Retirement plans can be very complex. As an innovative firm, Summit CPA specializes in 401(k) audits. We have the ability to offer assistance entirely off-site with little or no distraction to your daily office routine. We also offer flat-fee pricing so there are no surprises on your bill when the job is complete. For assistance contact our office at (866) 497-9761 to schedule an appointment.