It's not too late. You still have 2 days to file your 401(k) Plan's Form 5500 and Independent Auditor's Opinion (if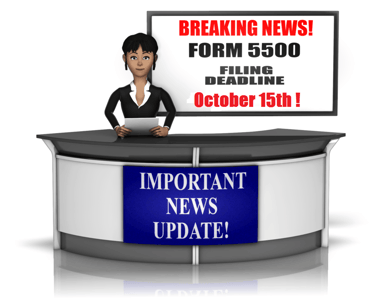 required) – note that the due date for the filing is by end of day on October 15th. If your location has been impacted by a FEMA declared disaster, you may file at a later date. Check out the IRS website and FEMA websites for additional information if this applies to you.
If you are unable to file your return by the deadline, you should still file the return. Penalties are assessed each day that you do not file the return past the deadline. If you are in this situation, check out the Department of Labor Delinquent Filer Voluntary Correction Program (DFVCP) website at: https://www.dol.gov/sites/default/files/ebsa/about-ebsa/our-activities/resource-center/faqs/dfvcp.pdf
This will help you get back in compliance with regulatory requirements for your benefit plan and assist in reducing the penalties associated with filing after the due date. Check with your benefit plan Third Party Administrator if you need assistance with the preparation of the Form 5500, the filing, or taking advantage of the DFVCP Program.
It's vital that you hire a trusted auditor when it's time for your plan's audit. At Summit CPA we specialize in retirement plan audits. We have the ability to offer assistance entirely off-site with little or no distraction to your daily office routine. We also offer flat-fee pricing so there are no surprises on your bill when the job is complete. For assistance contact our office at (866) 497-9761 to schedule an appointment.