The House of Representatives introduced legislation this past week that could impact 401(k) Plans across the U.S. if passed. The bill is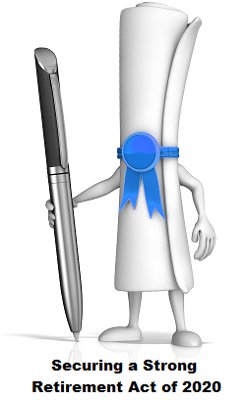 titled the "Securing a Strong Retirement Act of 2020" and was introduced on October 27th by Representatives from Massachusetts and Texas. This bill would raise the required minimum distribution age from 72 to 75. It would be effective for distributions required to be made after December 31, 2020 with respect to individuals that turn 72 after that date. The bill is intended to allow participants to continue building their retirement savings for longer periods. This is partly due to the loss in investment accounts experienced in 2020 due the Covid-19 pandemic and the resulting investment fluctuations.
The bill would also exempt those with account balances of $100,000 or less on the last day of the year from the required minimum distribution rule. It would allow individuals to pay down a student loan instead of contributing to a 401(k) Plan but allow the individual to receive an employer match in their retirement Plan.
There are also provisions in the bill that relate to other types of retirement plans. We recommend all Plan Sponsors consult with the Plan service providers for more information on these potential changes. Also, keep watching the Summit 401(k) blogs for more updates as this bill is considered in Congress over the next few months.
Retirement plans can be very complex. As an innovative firm Summit CPA specializes in 401(k) audits. We have the ability to offer assistance entirely off-site with little or no distraction to your daily office routine. We also offer flat-fee pricing so there are no surprises on your bill when the job is complete. For assistance contact our office at (866) 497-9761 to schedule an appointment.