I know that title seems alarming. However, for a Plan Sponsor of a 401(k) Plan this has been an ongoing concern of the Department of Labor. If a current employee is enrolled in your Plan, locating them to provide required notices, ensuring they receive their participant statements and verifying the participant actually requested a loan or distribution from their account is not an issue. However, once an employee leaves service, if they do not quickly move their account out of your Plan into another or take a full distribution of their account, locating them in future years can prove very difficult. We know that we have a mobile workforce and most employees do not keep in touch with former employers. They see no reason to until they want the money from their 401(k)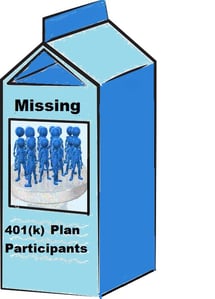 account.
There are two main areas where missing participants can be a problem:
Uncashed check situations – a participant requests a distribution but either does not receive the check or they receive it but lose it along the way and never cash it. If the Plan recordkeeper has good procedures in place, ultimately, they will recognize the situation and return the funds back to the Plan usually in a suspense, holding or forfeiture account. This does not associate the returned funds with the participant that these funds belong to.


Required minimum distributions (RMD) – once a participant reaches the age requiring an RMD, the recordkeeper can inform them and calculate the required distribution but they will not be able to actually disburse the funds until they receive a communication back from the participant. Again, if the participant has moved, changed contact information or otherwise does not receive the initial communication, the funds will not be disbursed timely as required by current IRS regulations.
We recommend Plan Sponsors do the best they can to keep track of all Plan participants and pay particular attention once an employee leaves the company if they have an account in the Plan. If your Plan allows for automatic distributions below a set dollar limit, we recommend you establish a procedure to move participant accounts out of the Plan per this guidance as soon as possible.
Also, meet with employees during the exit interview and provide paperwork for them to move their funds if automatic provisions are not available. Track receipt of required notices to ensure you have current addresses, e-mail addresses or other contact information. Plan Sponsors per their fiduciary duties are required to attempt to locate missing participants. Click this link for guidance in this area.
If you would like to discuss Summit CPA Group's audit process in more detail or need an audit, give us a call at (866) 497-9761. We're can help you navigate the world of the 401(k) audit as proficiently as possible.