If you are the Plan Sponsor of a 401(k) Plan and find out that your plan requires an audit, you should investigate if the audit can be conducted as a limited scope audit. ERISA (the Employee Retirement Income Security Act of 1974) allows plan audits to be conducted as limited scope if the following conditions are met.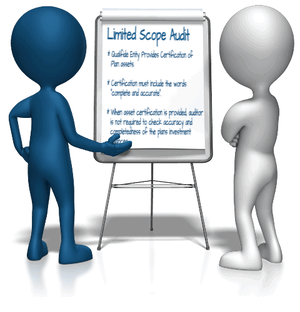 The entity providing the certification over the Plan assets must be a qualified institution. Banks, insurance companies and trust companies, generally are qualified as they are regulated and subject to periodic examination by a state or federal agency. Securities brokerage firms are not regulated and examined periodically so they do not meet the requirements and cannot provide a valid certification.
The certification must include the words "complete and accurate" and refer to the information that the entity is providing the certification over. In addition, it must be signed by an authorized individual of the certifying institution.
If an asset certification can be provided, the auditor is not required to test information such as the accuracy and completeness of the ending investment balances held by the Plan. From the Plan Sponsor's perspective, if the audit can be conducted as a limited-scope audit, the audit fee should be lower than a full-scope audit. It is worth researching if this is an option for your Plan audit.
It's vital that you hire a trusted auditor when it's time for your plan's audit. At Summit CPA we specialize in retirement plan audits. We have the ability to offer assistance entirely off-site with little or no distraction to your daily office routine. We also offer flat-fee pricing so there are no surprises on your bill when the job is complete. For assistance contact our office at (866) 497-9761 to schedule an appointment.