If you have a 401(k) Plan that utilizes an insurance company as your service provider, one investment option that may be offered to you relates to something called a "general account investment or guaranteed investment/interest account". It is a different type of investment with some positive and negative aspects. This week we will review the investment types in a 401k Plan, for general account investments.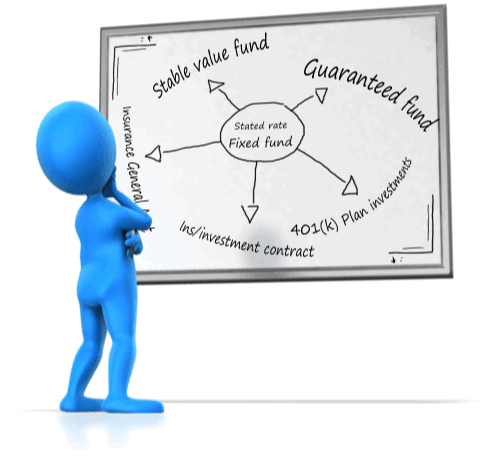 If you decide to work with an insurance company for your 401(k) Plan administration and investment selections, it is a good bet they will offer to you the option of offering an investment in the company's general account to your participants. These are often called a:
Fixed fund,
Guaranteed fund,
Stable value fund or insurance/investment contract.
These accounts usually offer a guaranteed/stated rate of return or interest payment that is defined in the contract. They may be included as part of a group annuity contract offered by the insurer.
Benefits
Benefits to these accounts include a higher return rate than a standard money market fund and the amount is usually guaranteed not to drop below a stated interest rate which provides some predictability to the rate of return. The funds offer a "safe" place for investors when the equity markets are volatile.
Restrictions
These funds may also offer several restrictions including requiring a lengthy period of time for liquidation if you choose to change providers.
Beware
Also, you should be aware that these funds are held in the general account of the insurer and they are subject to specific insurance regulations. They also are not protected in the event of financial difficulties encountered by the insurer.
FYI: If you are considering offering this type of investment to your participants, review the credit worthiness of the insurer first.
Retirement plans can be very complex. As an innovative firm Summit CPA specializes in 401(k) audits. We have the ability to offer assistance entirely off-site with little or no distraction to your daily office routine. We also offer flat-fee pricing so there are no surprises on your bill when the job is complete. For assistance contact our office at (866) 497-9761 to schedule an appointment.