The Bipartisan Budget Act of 2018 made changes to the rules governing hardship withdrawals for participants in a 401(k) Plan. The bill extended the funds available for withdrawal beginning in 2019 to include employer contributions of various types made into participant accounts.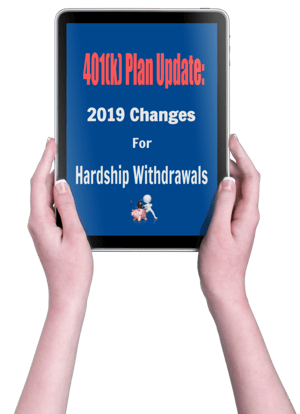 These funds could not be used previously for withdrawals of this nature. The bill also removed the rules requiring the suspension of contributions for 6 months after the withdrawal and that participants take a loan from the Plan before they could request a hardship withdrawal.
A study conducted by Fidelity Investments showed that after this change, participants are not electing to use the option to take a loan first when additional funds are needed. Fidelity's study covered more than 33,000 retirement plans for which they are the record-keeper.
Of the 23 million participants in those plans, 4.4% took a hardship withdrawal so far in 2019. That is double the historical rate noted by Fidelity. The rate of loans is slightly down from the historical rate of 9.2%. The study noted that the average withdrawal amount for hardship is $2.900. The primary reasons for the withdrawals are to avoid eviction or foreclosure and to cover uninsured medical expenses.
While providing the funds from a participant 401(k) account may be necessary for the event of a serious financial hardship, Plan Sponsors should review with participants the impact of taking a hardship withdrawal. The distribution amount is subject to taxes at the time the funds are withdrawn, along with an additional 10% penalty. The amounts that are no longer in the Plan are also not earning any investment income so the amount available for retirement is reduced.
The new law may allow more withdrawals, but there are still implications to the participant so we recommend reviewing the new rules with participants to ensure they understand the full impact of taking a hardship withdrawal.
When it's time for an audit for your plan, it's vital that you hire a trusted auditor. At Summit CPA we specialize in retirement plan audits. We have the ability to offer assistance entirely off-site with little or no distraction to your daily office routine. We also offer flat-fee pricing, so there are no surprises on your bill when the job is complete. For assistance contact our office at (866) 497-9761 to schedule an appointment.