If you are a Plan Sponsor of a 401(k) Plan, you may not have realized the upcoming deadline for Form 5500 filings for calendar year plans is rapidly approaching. For plans with a year-end of December 31st, the original due date for filing the Form 5500 is July 31st. If your plan has more than 100 eligible participants, the audit must be completed and the final audit report included with the Form 5500 by that same due date. As of the date of this blog, the IRS has yet to offer any extensions for this filing. Keep watching our blogs, however, as a deadline extension may be offered in the future.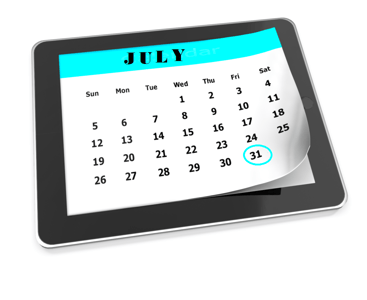 If you cannot complete your filing by the 31st, don't panic. You have some options. First, work with your service provider to file an extension. You will need to file a Form 5558 – Application for Extension of Time to File Certain Employee Plan Returns. Once the form is filed and accepted, you will then have until October 15th to file the Form 5500 (and the audit report if applicable). We encourage all Plan Sponsors to file this extension as it gets closer to the due date even if you are still trying to complete the filing. Penalties will accrue from the due date if the filing is not completed and you do not receive the extension acceptance.
If you miss filing the extension, you can file under the Delinquent Filer Program. There are penalties associated with this option, however. You can research options regarding this program on the IRS and DOL websites or check out other blog posts on this topic.
Watch the calendar and make sure you don't miss this upcoming important deadline. If you would additional information regarding the Form 5500 or the audit requirement, please contact our office today at (866) 497-9761. At Summit CPA Group we have the ability to offer assistance entirely off-site with little or no distraction to your daily office routine. We also offer flat-fee pricing so there are no surprises on your bill when the job is complete.