If you are scrambling to find an auditor for your 401(k) Plan in order to meet the filing deadline, it is still important that you conduct some due diligence to ensure you select a qualified firm. It is important that you select an auditor that has specific knowledge regarding 401(k) plan audits. They are different from traditional company financial statement audits as they are compliance-oriented and test specific regulatory requirements that most auditors are not familiar with. We recommend you ask the following questions when selecting an auditor for your plan: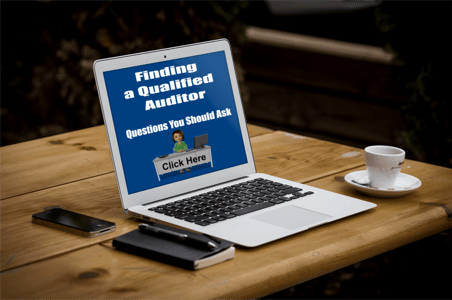 How many audits per year does this

audit firm

conduct specifically related to benefit plans? When looking for a firm to conduct your 401(k) plan- it's absolutely crucial you make sure they have enough time to do yours well. The last thing you want is to give this to a firm that doesn't have enough time or people to process your plans well and carefully.


What type of benefit plans have they audited? What is the size of the typical benefit plan in their audit portfolio? Does this experience level match up with your plan? Choosing a firm that doesn't specialize in the plans you need would hurt your process significantly. Do your research! You will save so much time and money if you research all of the firms that can audit your plans- but make sure you do it thoroughly. We recommend grabbing a couple other employees to do the research with you. Finding a firm that has experience that matches your plan will reduce stress and overwhelm in the longrun.


What level of expertise does the firm staff have specifically related to benefit plan auditing?


How long does the typical benefit plan audit take at the firm? Will the firm be able to take on a new client, and complete the audit in the timeframe left before the filing deadline? These questions will tell you whether or not you will be a top priority client. The whole idea of paying a firm is to get the job done before it's too late- to release that stress and overwhelm.


What specialized training does the firm provide for its benefit plan auditors? Expertise is one of the most important aspects of hiring a firm for your plans. You should want to make sure that these are trained professionals- who know the system more than you do!
At Summit CPA Group, we provide a plethora of expertise, plans, and availability to help run through your plan smoothly. Check out what we offer:
We audit over 100 plans per year. Our audits are generally small to medium size audits (up to 500 plan eligible participants), but we do have larger and more complex plans in the mix.
We only use audit staff that have specialized knowledge in this area. You will not be assigned a "new" auditor that does not understand the basics of your plan. We have learned consistency is key, and the relationships you build with your auditor provides trust, loyalty and consistency to your plan.
We are on a growth curve at Summit. We expect to add audit clients and we have staffed up for the growth. We will work to your schedule to ensure the audit is completed in a timely manner.
At Summit CPA Group, we are providing over 20 hours of specialized training for all our audit staff at the national AICPA conference on benefit plan auditing.
401(k) audits and plans are never something to be lightly discussed and handled. We created this list for you to find the best firm that will audit your plans as best as you could want them to be, within the best timeline. We have created an infographic for you to save for whenever you forget what you should be asking when searching for someone to audit your plans!
We would love to help you audit your 401(k) Plan here at Summit CPA. We have spent years learning what works, and what doesn't work for people like you. Our goal is for you to feel safe, secure, and a step ahead in your 401(k) Plan than you were before you came to us.
We also offer flat-fee pricing so there are no surprises on your bill when the job is complete. If you would like to discuss our audit process in more detail, contact our office at (866) 497-9761