Looking for how to understand exactly how you need to distribute your 2021 fee disclosure to the plan participants? You landed on the right page. We're here to help you and give you a better understanding!
Why is this important?
This information needs to be provided to each participant before they enter the plan and make their first investment selections and then annually after that. 401k plans are stressful enough, but when you add on the 401k fee disclosure to the plan participants, it can become even trickier. We would love to help expand your knowledge in this area. Let's ease those nerves for the plan participants, as well as the distributors, for your 401k plan.
Verify required information
Most third-party providers will prepare the fee disclosure information for you, but you should verify that all the required information is included. Ensure that all participants are scheduled to and do receive the disclosures at the proper times. Double checking on this information will help guarantee that there are no surprise fees or payments the participant has to make. The people who are doing this work are helping the financial nerves settle, but that doesn't mean there may not be some sort of hidden fee within.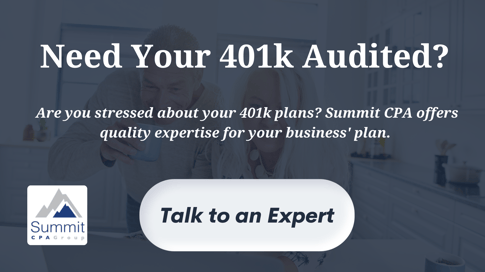 401k Fee Disclosure | Differences in Each Role
401k Plan Fiduciary
As the Plan Fiduciary, this plan is to ensure your 401(k) Plan remains compliant. It is also recommended that you maintain documentation that the disclosure was distributed (the date of the distribution, how it was provided, and a listing of all participants that were given the disclosure). It is their responsibility to ensure that all financial information is taken into account within each of the participants. The legal responsibility is a heavy task to hold, but rewarding once each step is completed for the 401k fees.
401k Plan Sponsor
As the Plan Sponsor, you should also keep a copy of the disclosure that can be provided in case of questions, or if a participant does not receive the original copy, or if they cannot find the email sent to them. If the service provider is responsible for distributing the disclosure, the Plan Sponsor should ensure the provider maintains the required documentation. This step is carefully thought through, and the Plan Sponsor is a responsible employee- bringing clarity to the situation.
Administrator, take a look.
If you are a 401(k) plan administrator that allows your plan participants to direct their investment choices, you have specific requirements that relate to fee disclosures. As an administrator, you must provide information related to:
Available investment options.
The performance for each investment.
All fees and expenses associated with each investment choice.
Wrapping Up
Are you well versed in these issues within the 401k plan? Each year, this is something each of the participants need to comb through to make sure there is nothing missing for when the 401k plan gets sent out!
At Summit CPA, we understand how 401k plans can seem unclear, time-consuming, and often the verbiage surrounding it doesn't give you the best clarity. We are committed to showing you the clarity you need within your 401k plan - especially those tricky disclosed and hidden fees! Let's talk soon, before it's too late!