As the Plan Sponsor of a 401(k) Plan, if you allow the plan participants to direct their investment choices, there are specific requirements related to fee disclosures.
You must provide information related to the investment options that are available, such as; the performance of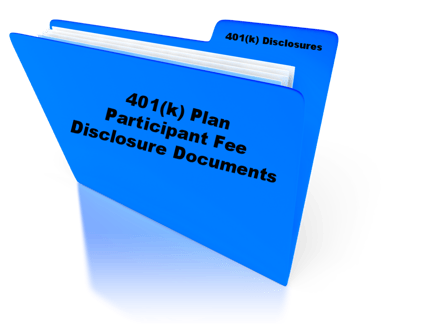 each of those investments and all the fees and expenses associated with each investment choice.
This information needs to be provided to each participant before they enter the plan and make their first investment selections. After the participant's first investment selections, this information is to be provided to the participant annually.
Most third-party providers will prepare the fee disclosure information for the plan sponsor. However, you should always verify that all the required information is included. As the plan fiduciary, you will need to ensure that all participants are not only scheduled to receive the disclosures, but that the participants actually do receive the disclosures in a timely manner. As a Plan Fiduciary, this is a required step to ensure your 401(k) Plan remains compliant.
For more detailed information related to plan expenses and required disclosures, you may visit the Department of Labor website under the Employee Benefits Security Administration section.
Do you need a third-party Firm to assist you with your 401(k) plan? Hiring a CPA firm that specializes in pension or 401k plan auditing will make a huge difference in how smoothly your audit goes. It's now possible to assist you entirely "off-site", and with little or no distraction to your daily office routine.
At Summit CPA we also offer flat-fee pricing for pension and 401(k) audits so there are no surprises when you receive your bill. To find out how we can assist your business, contact our office at 866-497-9761 to schedule an appointment.