How Virtual Enrollment Can Increase Your Benefit Plan Participants
As the Plan Administrator for a company 401(k) plan, one of your many responsibilities is to offer plan enrollment to employees once they qualify for various benefit options offered. For the 401(k) plan, this may be at the time of hire, a few months after hire, or once they have worked a specific number of hours. Once the employee is eligible, how do you offer enrollment? Do you simply send the required paperwork to the employee, sign them up for an enrollment meeting or meet with them in person? Once the Covid-19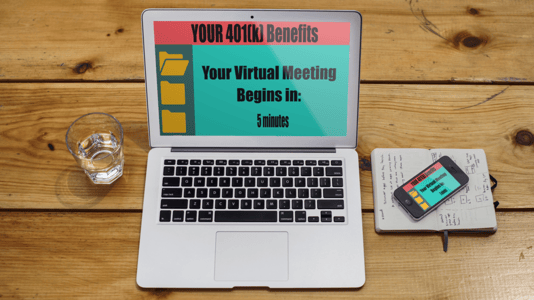 pandemic hit, many HR professionals found themselves with limited options as in-person meetings were not available, and employees were often working from home so one-on-one meetings were more difficult.
We all know that communication with employees is one of the best ways to increase participation in your plan. However, with many of the changes required from the pandemic, you may be wondering how to coordinate these communications since we still, in many cases, cannot meet in person or hold large gatherings (open enrollment sessions). Recent research suggests that in-person meetings may not return. Virtual enrollments are the wave of the future. An Eastbridge survey on this topic indicated that employers want to offer employees multiple types of enrollment options so they can select the one that best fits them. Often, sessions are tailored to the age, gender or life stage of the employee to direct the message to those specific demographics. The following is what the survey found regarding communication for enrollment:
56% used e-mail, direct mail or text communications to inform employees regarding the plan and the upcoming enrollment
51% utilized virtual one-on-one meetings with a profession enroller
48% offered a virtual group meeting followed up by one-on-one meetings
39% used voluntary group meetings
33% utilized educational materials from the service provider with video presentations
Both employees and employers were receptive to the use of e-mail, text and virtual meetings for these processes. We believe the future of plan enrollment is virtual, but it does not need to be passive or impersonal. A good strategy with multiple options tailored to fit the types of employees in your company will enable successful enrollment periods and good participation without the need for in-person settings.
We also recommend if you are offering enrollment sessions on other benefits that are available (such as medical and dental plans), you include information about the 401(k) plan. The more often an employee is provided an opportunity to enroll or ask questions about the plan, the better the participation rates tend to be.
We at Summit CPA know that plan administration can be a huge burden to companies, especially with all the complexities added due to the pandemic. However, don't let your guard down regarding your 401(k) plan. It is an important responsibility of the plan fiduciaries to ensure compliance at all times. A review of current compliance and administration now will help make the start of 2021 a little less stressful. For more information on how we can help, contact our office at (866) 497-9761.