Summit CPA Group's Director of Auditing, Kim Moore, will be a panelist during the AICPA ENGAGE conference. Kim will be presenting alongside Matt Towers, from CPA.com, during a session on:
The Distributed, More "Connected," and Digital A&A Practice.
Panelist:

About this session
CPA firm and client organizations are becoming more digital and connected, whether it is to data, tools, people or even experiences. While a fully digital, dynamic audit solution has not yet arrived, there are digital on-ramps for audit and other financial statement services being adopted today that help support a forward-thinking, digital culture and process for your firm.
What you will learn:
This session discusses and demonstrates how a solid technology foundation around your audit and assurance service line helps create a positive, productive work environment for you and your clients regardless of physical location.
The panel discussion takes place on October 19th, 3:00 - 3:50 p.m. EDT.
---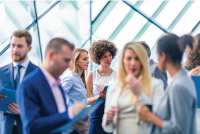 About AICPA ENGAGE
AICPA ENGAGE is the premier accounting and finance online event that helps you evolve yourself, your organization and your profession. There are over 170 sessions over 2 days of learning and networking with industry leaders.


To learn more visit AICPA ENGAGE today!