Summit CPA Group's Director of Auditing, Kim Moore, will be a panelist during ENGAGE 2020 session: Suddenly Virtual? Optimizing your New Environment. A discussion about virtual work and a distributed online workforce.
Panelist:

During this virtual session attendees will learn how to strategize and optimize a remote and distributed online workforce. The seasoned panel will share best practices and experiences as it relates to embracing the new virtual world.

Topics include:
Remote staff expectations

Gained efficiencies

Running successful virtual meetings

Remote technology

...and more!
The panel discussion takes place on July 24th, at 2:30 p.m. EDT. You can register for the event here.
---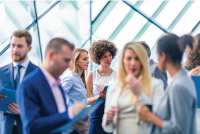 ENGAGE 2020: July 20 - 24, 2020
AICPA ENGAGE 2020 is the premier accounting and finance online event that helps you evolve yourself, your organization and your profession. There are over 170 sessions over 2 days of learning and networking with industry leaders.


To learn more about this virtual event visit ENGAGE 2020 today!