Establishing Eligibility
If you are the Plan Sponsor of a 401(k) Plan, you have established eligibility requirements for entry into the Plan. Most often these requirements include an age and service requirement. Usually, a Plan will require an employee to reach age 18 or 21 before they can enter the Plan. This provision is used to exclude interns or those that will not be permanent employees. It can also be due to legal requirements. The usual determinant, however, of eligibility is most often the service requirement. This can include requirements such as a period of time or reaching a number of hours. Examples include: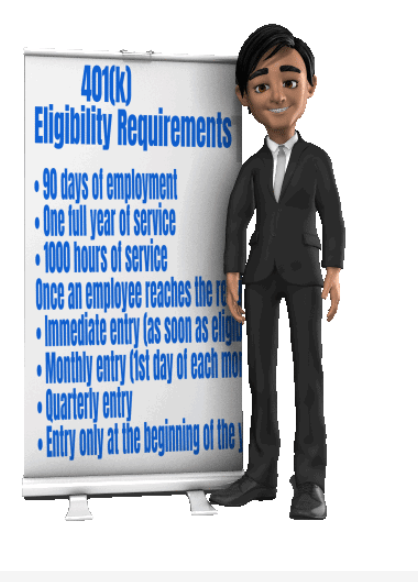 90 days of employment
One full year of service
1000 hours of service
Your Plan Document will state the entry dates allowed once an employee reaches both of these required provisions. Often these include:
Immediate entry (as soon as eligibility requirements are met) – this may mean that employees are eligible upon hire.
Monthly entry (1st day of each month).
Quarterly entry
Entry only at the beginning of the year or only on January and July 1st
If your Plan opts for auto-enrolment, employees will be automatically enrolled once they meet the eligibility requirements and based upon the established entry dates. Employees must opt-out of a Plan in these cases to not be included as a participant. Without auto-enrollment, participants should be provided enrollment information for the Plan once they have satisfied the eligibility requirements and reach the entry date. They should not be allowed entry before the stated entry date (i.e. if your entry is only on January 1 or July 1 there should be no other entry dates used for convenience). Best practices regarding eligibility are to use a form or website checklist in which the employee indicates that they want to enroll or they are declining participation. In this way, documentation is maintained that the employee was offered participation but declined. It can also help avoid disagreements later regarding the participation date and deferral rates chosen.
Recommendations
Based upon our audit work with our clients, we recommend the following be considered when determining eligibility:
Make sure the criteria chosen is administratively feasible. Selecting an hour's requirement with hourly employees makes compliance with the requirement more difficult to administer. Tracking dates of service is usually less work than tracking hours. New regulations will require tracking of hours for part-time employees across years to ensure they are handled properly with regard to enrollment. Careful consideration in this area can be very helpful.


Use a declination form or checkbox on your onboarding process or website to document employee decisions with regard to enrollment.


Verify the eligibility, enrollment, and full employee Plan offering with your payroll, Human Resources, and 401(k) service providers to ensure all items are addressed. Often, we note errors because one group thought a crucial step was being handled by a provider. They did not verify the provider actually understood this was their responsibility.
Enrollment and eligibility is a crucial but often overlooked part of Plan administration. Spending a little extra time in setting up the requirements and related procedures early can save Plan Administrators a lot of time and headaches later.
At Summit CPA we specialize in retirement plan audits. If you would like to discuss our audit process in more detail or need an audit contact our office at (866) 497-9761 to schedule an appointment. We can help you navigate the world of the 401(k) audit as proficiently as possible. We also offer off-site assistance and flat-fee pricing so there are no surprises when the job is complete.