There have been a lot of news articles lately about the health of the Social Security and Medicare Funds. This has sparked discussion around the provisions in those plans which may require changes to what is covered in them and the ages at which each will be available. This may have prompted questions from your employees about when can I retire? What does the Company 401(k) Plan offered to me for retirement at different ages?
Finding the answers
To answer these questions, you need to dig out the 401(k) Plan Document. Somewhere in the details, it will describe the Plan's defined retirement age. This doesn't mean that this is the age employees are required to retire from service with their employer. It also doesn't automatically trigger benefits to be distributed to participants once they reach that age. It does have an important meaning, however, so it's important that you understand what age is and what it means for employees once they reach it.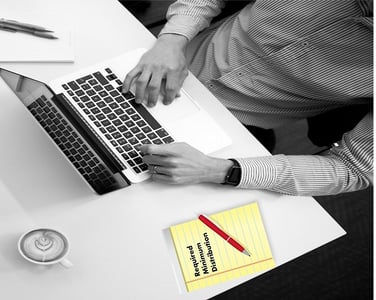 Retirement age
Most folks are familiar with the definition of retirement age-related to the U.S. Social Security system. Currently, you must reach the age of 66 years and 2 months to receive full benefits from Social Security. This age will continue to increase over time. Withdrawals from Social Security can begin as early as age 62. This definition triggers individuals to consider as they approach this age when they will plan for retirement. Employees should consider other retirement assets as they make this decision such as personal IRAs, individually owned investments, pension plans (if this applies), and, of course, their 401(k) account balance. Participants should review the 401(k) Plan Document to verify the retirement age for the Plan as it is often different from the Social Security definition.
"In-service" withdrawals
Many 401(k) Plans allow participants once they reach the age of 59 ½ to begin taking what are called "in-service" withdrawals". This means that funds can be withdrawn from your 401(k) account while you are still employed. These distributions apply to elective deferrals – this is the money that you put into your account, not the funds that your employer contributed as a match, profit-sharing contribution, or other employer contribution.
Reaching Plan retirement age
Once you reach the retirement age specified in the Plan Document, you will be eligible to receive distributions from your full account balance (elective deferrals and employer contributed funds). This may be taken as installment payments or annuity payments but you'll need to review the Plan Document to see your options. Many Plans will include a provision to make your account fully vested once you reach the stated retirement age regardless of other vesting provisions in the Plan document.
RMD age
Of course, the IRS requires that you begin taking distributions out of your Plan once you reach the Required Minimum Distribution (RMD) age. The definition of this age has been changing over the last few years. If you reach the age of 70 ½ after December 31, 2019, then the current age to begin taking RMD's is when you reach the age of 72. Once you reach that age, you much begin taking the first RMD by April 1 of the calendar year in which your reach the age of 72 or you retire. However, review the Plan Document for specifics on the first required distributions. Also, check out the IRS website at https://www.irs.gov/retirement-plans/plan-participant-employee/retirement-topics-required-minimum-distributions-rmds
*Note that for 2020 due to the CARES Act, RMD's are not required for this year due to the pandemic. There are also options available if you already took an RMD before the CARES Act was implemented. Visit https://www.irs.gov/newsroom/irs-seniors-retirees-not-required-to-take-distributions-from-retirement-accounts-this-year-under-new-law
If you would like to discuss Summit CPA Group's audit process in more detail or need an audit for the first time, give me a call at (866) 497-9761. We're here to help you navigate the world of the 401(k) audit as proficiently as possible.