We recognize that most 401(k) Plans use a calendar year-end which means their extended due date for filing the Form 5500 is October 15th. As this is just a few days from now, we wanted to provide an option for filing if you are not ready to file your Form 5500 or the annual audit that may be required to submit with your Form 5500 may not yet be completed.
One option you may want to consider is using the Department of Labor Delinquent Filer Program. This program is titled the Delinquent Filer Voluntary Compliance Program or DFVCP. This program allows you to admit that you did not complete the required compliance activities in time which made the filing late. The filing process is fairly straight forward and can help you avoid more costly fines and penalties associated with filing late.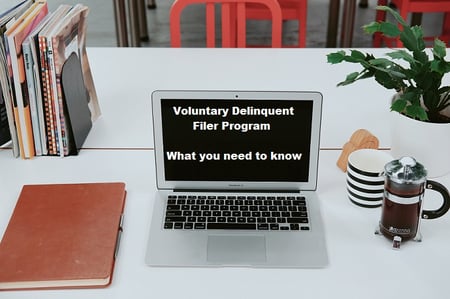 When to use this option
It should be noted that this option can only be used if you have not been notified in writing by the DOL that they have not filed or not filed timely. Remember the title is "Voluntary" so you cannot respond to a DOL penalty assessment with a voluntary filing.
To take advantage of this program, you should electronically file a complete Form 5500 on the EFAST2 System. This means that the Form 5500 must be complete, and the annual audit (if required) must also be completed first. Then you need to go online and file the 5500, audit report and any other needed schedules.
**Make sure that the DFVC program box on line D of Part I of the Form 5500 is checked. This indicates to the DOL that you are filing under the program.
Basic Penalty
The second part of the program is to pay the penalty. The basic penalty is $10 per day from the original due date of the Form. For example, calendar year plans are originally due for filing by July 31st. Most service providers will obtain an extension that provides time to file through October 15th. However, if the filing is not completed by the 15th, the original due date of July 31st applies. If you actually filed the form on October 20th, you would need to calculate the late penalties from August 1st – October 20th. The maximum penalty for a large plan filer is $2,000. While this is a lot of money, it is much less than the penalty the DOL will assess if they identify the error.
The DOL has an online calculator that you can use to simply the calculation process. More information on the calculator and filing process can be found here: Delinquent Filer Voluntary Compliance Program (DFVCP) Penalty Calculator and Online Payment with Instructions, Examples and Manual Calculations | U.S. Department of Labor (dol.gov)
We recommend you consider this option for filing your Form 5500 if you need more time to file than the regulations allow.
Retirement plans can be very complex. As an innovative firm Summit CPA specializes in 401(k) audits. We have the ability to offer assistance entirely off-site with little or no distraction to your daily office routine. We also offer flat-fee pricing so there are no surprises on your bill when the job is complete. For assistance contact our office at (866) 497-9761 to schedule an appointment.