As the Plan Administrator for your Company's 401(k) Plan, there are multiple things that require you to take action. These actions should ensure the timely completion of tasks so that your company is not exposed to unnecessary fines and attention from regulators such as the Internal Revenue Service or Department of Labor.
Any task that is incomplete entirely may jeopardize the qualified status of your Plan. This may have serious consequences to the Plan, Plan participants, your Company and ultimately, you, if left uncompleted.
I recommend you establish a Compliance Calendar for your Plan at the beginning of the year. This will make the administrative process less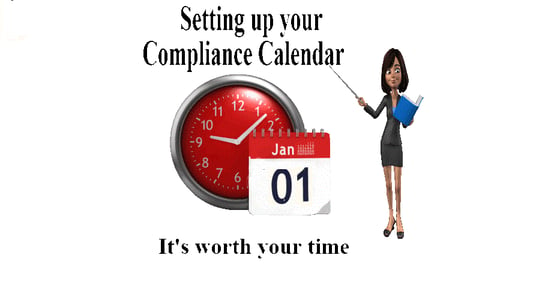 stressful. Your calendar can simply be dates added to your office calendar, appointments added to the electronic calendars of those with Plan responsibilities or merely a paper calendar that you refer to regularly. Whatever is easiest for you!
Specific dates to add to your calendar include:
The date the Census needs to be submitted to your Plan provider (if applicable).


Any dates related to the discrimination testing process. *

Note

: Ii refunds are due to employees, they must be to be processed by March 15th, so set your timeline before that date to ensure you meet the deadline.


The deadline for the Form 5500 filing or extension should be added (July 31 for the calendar year Plans).


The extended due date for the Form 5500 filing (October 15th for the calendar year Plans).


Any dates to meet the due dates of your auditors if the Plan requires an audit.


Dates related to the contribution submissions from your payroll runs. This will help you ensure the contributions are made in a timely manner, which is a Department of Labor requirement. This will assist those in your office that may help with the Plan while you are on vacation or otherwise out of the office.
For assistance with filling out the dates on your 401(k) Compliance Calendar, speak with your service provider or review actions on their website
Retirement plans can be very complex. As an innovative firm Summit CPA specializes in 401(k) audits. We have the ability to offer assistance entirely off-site with little or no distraction to your daily office routine. We also offer flat-fee pricing so there are no surprises on your bill when the job is complete. For assistance contact our office at (866) 497-9761 to schedule an appointment.