It's the end of the year and that's a good time to take stock of the past year.
How did things go for administration of your 401(k) plan? Did you have several corrections needed in your plan? Were you on the phone for several hours trying to understand requests from your service provider? Did they respond quickly or were there delays? Also, did you review fee charges and your investment performance and feel you could improve in those areas? It may be time to do an evaluation of your plan service provider.
Consider what type of offering you want for your employees, what type of plan communications you want the provider to offer, take a look at the plan website, and discuss the service level they can provide, look at the investment fund lineup and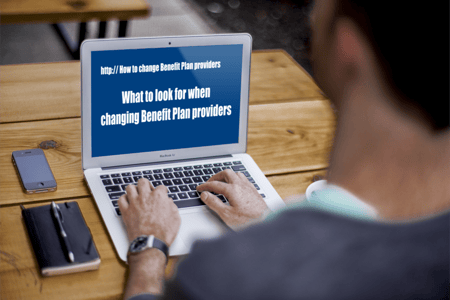 performance and, of course, evaluate pricing. These are just a few items to consider when evaluating plan providers. Discuss with your employees what enhancements they would like in their plan. Consider discussing with your Plan Investment Advisor and payroll provider different options.
Once you have made a decision and would like to change providers, you will need to let your current provider know about your decision. You will most likely need to pay a fee to change. There will get a process to work through as you will need to sign with the paperwork with the new provider, pay their initial fees and the work through the transfer of the assets and participant information. Don't under-estimate the time to complete this work. It is important to get the transfer completed accurately. Also, you'll need to communicate the planned transfer to your employees and provide information about the blackout period. Ensure you work through the payroll transfer during the transition period to ensure you continue employee withholding throughout the transfer and there are no delays in submitting the contributions to the plan.
Things to consider about the timing of the transfer:
If your plan needs an audit, the auditor will need to know about the transfer and will probably charge extra as they will need to test the transfer of assets and participant information.


The prior provider will need to prepare the Form 5500. Make sure you work out as part of the transition process which provider will complete compliance tasks such as the Firm 5509 preparation and compliance testing. Discuss the timing, cost and information needed so there are no surprises.



Consider the timing of the change. When will you have time to make the change? You will need to have a blackout period so factor that timing into your decision-making. Ensure all compliance and payroll activities can continue during the transfer timeframe. Make sure to discuss with your payroll provider, payroll staff and those that work with your plan day-to-day to ensure a smooth transition.
It can take a lot of planning and a lot of work to change plan service providers, but if handled properly, it can be a strong move to enhance your overall plan performance. Retirement plans can be very complex. As an innovative firm, Summit CPA specializes in 401(k) audits. We have the ability to offer assistance entirely off-site with little or no distraction to your daily office routine. We also offer flat-fee pricing so there are no surprises on your bill when the job is complete. For assistance contact our office at (866) 497-9761 to schedule an appointment.