Consider Auto-enrollment
You may have heard of a feature called auto-enrollment for 401(k) Plans. This feature allows employers to automatically enroll new employees into the Plan once they meet any eligibility requirements unless the employee takes action to stop the enrollment. Plans without this feature require employees to "opt-into" the Plan. With this feature, employees instead, "opt-out". It is frequently used because we tend to see higher participation in Plans with this feature and employers believe they are helping their employees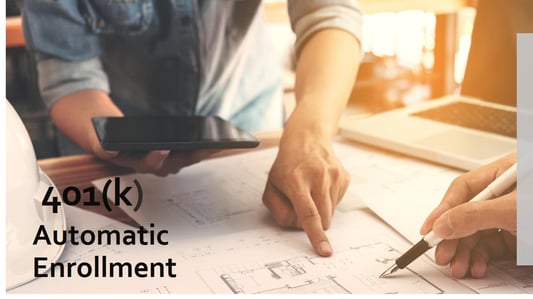 automatically save more for retirement. Some states are mandating auto-enrollment for Plans offered by companies in their state, also, to help encourage saving for retirement. Under the federal Secure Act 2.0, auto-enrollment at 3% will be required. So, auto-enrolment is a good thing, right?
Auto-enrollment can be a positive action to help employees. However, if you have an employee base that is not highly compensated, participants may not initially opt-out but may do so shortly after starting contributions into the Plan. This leaves you with many very small dollar balances. This can cause higher fees if they are charged on a "headcount" basis. Also, it can be very time-consuming to make sure all participants ultimately receive their account balance, especially if you have a high turnover rate.
In addition, auto-enrollment Plans usually start with very low contribution rates (usually 3 or 4%). This will mean a small savings rate for most employees. To truly help save for retirement an increasing (auto-escalation) provision should be considered. This will gradually increase the savings rate if the employee remains with the company and in the Plan. In addition, the auto-enrollment Plan features a default investment strategy. This may not be appropriate for all employees. Consider offering an investment advisor for the employees to consult with as they initially enroll or later on when they have accumulated more significant savings amounts.
Auto-enroll features can help steer employees into saving for their future but ultimately it is their retirement that they are saving for. Communication and education about these savings and the means to maximize the savings in planning for retirement are still important features to make sure are available in your 401(k) Plan.
Retirement plans can be very complex. As an innovative firm Summit CPA specializes in 401(k) audits. We have the ability to offer assistance entirely off-site with little or no distraction to your daily office routine. We also offer flat-fee pricing so there are no surprises on your bill when the job is complete. For assistance contact our office at (866) 497-9761 to schedule an appointment.