You should have completed the work to file your year-end 401k Plan Form 5500 on the Department of Labor EFAST website. As part of the wrap-up work to in that process, your service provider has probably presented you with a "Summary Annual Report" and asked you to distribute it. You may be wondering what this document is and why you have to spend time on it.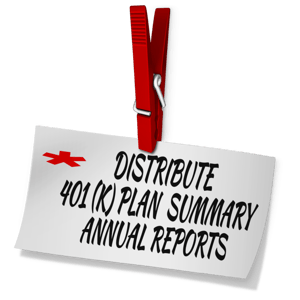 The Summary Annual Report is a short document with a prescribed format dictated by the Department of Labor. This report is created after the Form 5500 is completed as much of the information comes directly from data in the 5500.
The report includes these 6 things:
The Plan Name.


Employer Identification Number (EIN).


The Plan number.


Some high level financial information.


Provides details of a participant's rights to receive additional specific information relative to the Plan.


The official office of the Plan in case a participant wishes to request the specified information.
The Summary Annual Report is required to be prepared each year and distributed to all Plan participants within nine months of the Plan year-end. Failure to take this step is an administrative error which can result in fines or criminal action by the DOL in the cases of willful noncompliance.
Do you have questions about your Summary Annual Report? It's vital that you hire a trusted auditor when it's time for your plan's audit.
At Summit CPA we specialize in retirement plan audits. We have the ability to offer assistance entirely off-site with little or no distraction to your daily office routine. We also offer flat-fee pricing so there are no surprises on your bill when the job is complete. For assistance contact our office at (866) 497-9761 to schedule an appointment.