Securing a Strong Retirement Act
As we have discussed in previous blog posts, Congress passed a new piece of legislation titled the SECURE Act (Setting Every Community Up for Retirement) that became law on December 20, 2019.
This bill made many substantial changes for 401(k) Plans; however, it did not deliver all the benefits that Congress was hoping for. They are trying to fix the items that were not included in the original Act through a new set of legislation. We have also covered this in previous blog posts, but this entry will update you on the progress (or lack of progress) in this area.
The House of Representatives has a bill titled Securing a Strong Retirement Act – unofficially known as Secure Act 2.0 in October of 2020. In May of 2021, the legislation was reviewed and unanimously passed by the Ways and Means Committee. The Act does have significant support; however, most experts believe it will not be considered further until the fall of 2021 and may not be taken up again until 2022. So, not much action in this area from our last posting.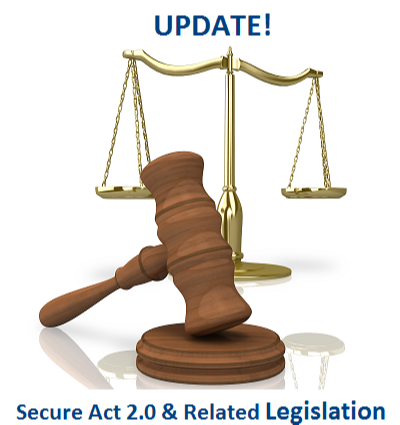 A new addition for consideration is called The Retirement Security and Savings Act – called the Cardin-Portman Act for short (after the two Senators that sponsored the Act). This bill has been introduced in the Senate Finance Committee and, so far, it has not progressed out of that committee. Experts think this bill may be reviewed soon, however, as both Senators that sponsored the Act are due to retire in 2022 and will want to see the bill become law before they leave.
Although neither bill has reached the full floor of either House, here are the main items being considered:
Allowing Collective Trust investments in 403(b) Plans.


Permitting employers to make matching contributions into Plan based on participants making student loan repayments instead of employee contributions.


Increasing the catch-up contribution limits.


Updating the required minimum distribution age to begin distributions and also updating other RMD regulations.


Allowing 401(b) Plans to use the Multiple Employer Plan (MEP) concepts.


Providing financial incentives for participation.


Reduces the service required to participate for long-term part-time workers from 3 to 2 years.


Introduces simplification of administration options such as consolidation of required notices to participants and non-participants, providing for self-certification of hardships, and creating national retirement savings lost and found database to be administered by the Pension Benefit Guaranty Corporation.
We are also watching the Enhancing Emergency and Retirement Savings Act of 2021 introduced by James Lankford that would allow participants to remove funds from their accounts in the event of an emergency. The maximum withdrawal per year would be $1,000.
We will continue to monitor action taken on these two bills that impact retirement plans and provide updates as warranted.
Here at Summit CPA know that Plan administration can be a huge burden to companies especially with all the complexities added due to the pandemic. However, don't let your guard down regarding your 401(k) Plan. It is an important responsibility of the Plan fiduciaries to ensure compliance at all times. A review of current compliance and administration now will help make things a little less stressful. For more information on how we can help, contact our office at (866) 497-9761.